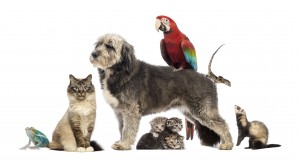 Over half of Americans own pets, and most pet owners consider their animals a part of the family. It's natural, then, for pets factor into your home-buying decision. Where you buy and what to look for often depend on your animal's needs—classifications that aren't as simple as they sound. To help you identify pet-friendly homes, we've listed out some factors to consider when house-hunting.
Fenced Lawn
All dogs need outdoor space, and the size of that yard will factor in to how often you have to clean it. It will also factor in to the type of dog you own. High-energy pups or bigger dogs that primarily live outdoors need a more expansive backyard, with a fence they can't easily jump over or crawl through. If the home is lacking a sufficient yard, you will want to explore the neighborhood and find your closest community dog park. In the event there is not one nearby, you may want to reconsider making an offer.
Busy Streets
Major intersections and thoroughfares can be convenient for your trips to the store or daily commute, but they're much more hazardous to pets. The more traffic that moves past your home, the more risk your dog or cat faces. Especially if your animal spends any time outside, look for a home deeper inside a neighborhood, a little off the grid.
Neighbors
Though a majority of Americans do own pets, many that don't prefer not to for a reason. While browsing for homes, examine the neighborhoods and look for signs of other pet owners: outdoor kennels, families on walks with their dogs, and front lawn decór in the shapes of cats and dogs. While not as important as safe streets and contained yards, the presence of others' pets can reveal whether or not neighbors will be tolerant of yours.
Floors
Almost all cats and most dogs shed. Pet hair can be a deciding factor in what types of flooring to look for. Unless your pet is white, darker carpets hide hair better than light colors, and wooden floors facilitate the cleanup. If you own a large dog with large claws, look for flooring that won't be easily damaged; and if you have cats, make sure there's a space where a litter box won't leave too much of a mess.
If you're planning to purchase, refinance, or want to learn more about our mortgage rates, simply fill out our Fast Response form or give First Option Mortgage a call at 888-644-1999.  Our experienced mortgage professionals would love to sit down and discuss your needs. We look forward to hearing from you!
Tags: Everyday Living, first time home buyer, house hunting