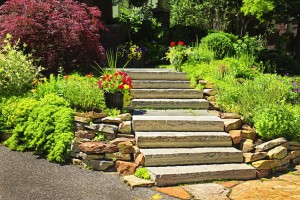 The outside of your home is equally as important as the inside. That means giving some serious thought to your landscaping can be a great investment for both the enjoyability of your home and its status as a long-term investment. We've talked about gardening before in our blog post on gardening for curb appeal. Now we've gathered together four great concepts for a luxurious landscape!
Put a bird on it
If you're looking for something a bit more budget conscious — or changing your entire yard seems a bit daunting — consider a bird feeder or fountain. It's nice to bring a little bit of nature into the landscape, so why not create a wildlife-friendly garden? If you're feeling particularly adventurous, you can even work with the National Wildlife Federation to create a certified wildlife habitat out of your backyard!
Buying a few sapling trees and planting them around your yard can also flourish into something beautiful in a few years, and might also encourage songbirds to gently arrive and tweet their way into your life.
Furnish it
Sometimes all it takes is a little TLC — and maybe a few strategically placed chairs and a picnic table. If you have trees, a hammock or a tire swing can be a nice addition to a backyard, especially when it's arranged around a beautiful new fire pit. Just remember: Don't let your beautiful yard or garden be overshadowed by too many different bits of furniture!
Carve a path and make the bed
A nice stone path is an easy weekend project that can take your landscape to the next level. Paving stones can be found at a hardware store, and if you're not picky about having things cut a certain way, many stonecutters have extra scraps that they're willing to part with for free or at a discount.
Along those same lines, stone can make for great raised beds for your garden and flowers. It gives the whole yard an earthy, lived-in feel, and will certainly upgrade the look of your backyard.
Consider the xeriscape
Xeriscaping is the art of creating a landscape that requires little water and maintenance to stay alive. You can make it happen a few ways, but many people focus on using cactus and succulents for the plants, and creating a rock garden for the surrounding area. You can find many galleries online to help you brainstorm something if you're looking to create a yard that's environmentally friendly and very unique. We've also created a helpful guide — and you don't have to live in Arizona to get the full effect!
Have you created a landscaping masterpiece? Share it with us on Facebook or Twitter! And if you're interested in starting your home buying journey to create some landscaping of your own, contact us and we can get you on the path.
Tags: garden care, homeowner advice, homeowner tips, increase home value, landscaping, Real Estate Tips, summer landscaping