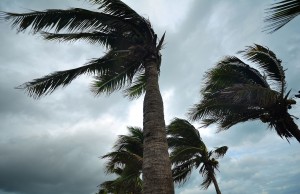 No one wants to imagine a tropical storm or hurricane slamming into their home, likely the biggest investment of their lives. With the Atlantic hurricane season spanning six months from June 1 till November 30, there are unfortunately several chances for damage to occur to your First Coast home. As a homeowner you must be proactive in protecting yourself, your family and your home with hurricane insurance. We at First Option want you prepare for the unexpected. Read on to learn more about hurricane insurance costs in the Jacksonville, Florida, metro area.
Related resource: "The Top 5 Jacksonville Neighborhoods for Young Families"
What Does Home Insurance Cover?
Your basic home insurance does not cover flood damage from hurricanes. This does vary from state to state, but in Florida you definitely need to tack on extra coverage for hurricanes. Basic coverage takes care of:
Your home's structure – covers damage to your home or replacing your home from the ground up with the same materials. This normally includes wind damage, but does not include water damage from flooding.

Any additional structures on your property –  such as your lovely picket fence.

Your personal belongings – assists in replacing your belongings due to theft or a disaster.

Loss of use – if your home is in need of repair and requires you to stay elsewhere, this aids in covering some living expenses.

Liability protection – helps if you're sued by someone hurt on your property.

Medical – if you are liable in the case above, your homeowner's insurance covers the injured party's medical bills.
Examine the details of home insurance policies carefully before signing. Find one that covers at least 80 percent of your replacement costs and any cash value. Most mortgage lenders require you to get home insurance before closing on your new home. Speak to a local, qualified First Option lender to learn more now.
Why Hurricane Insurance?
There are five hurricane categories. Category 1 hurricanes feature winds at 74 to 95 mph, in which some damage, such as losing roof shingles, will occur. A Category 5 hurricane is a true catastrophe with winds at 157 mph or higher. To put things into perspective, Hurricane Katrina was a Category 3 on land. Homeowners affected by Hurricane Katrina were shocked and enraged when their general home insurance did not cover flood damage. Many insurance companies associated wind damage with flood damage so they wouldn't have to assist so many homeowners at once.
What Does Hurricane Insurance Cost in Jacksonville?
It is highly advised you acquire flood insurance in Florida to prepare for the possibility of a hurricane hitting your home. Your home lender may even require it. Expect to pay an average of $1,933 in Jacksonville for your home insurance premium. This 2011 figure, the most recent available, is 98 percent higher than the national average since tropical storms and hurricanes strike Florida each year.
Newer Florida homes are likely to meet hurricane building codes and stand a better chance against flood and wind damage. You can expect to pay a lower premium with a newer home. If your home is older, look into replacing your windows, doors and garage doors to meet current standards. These improvements will lower your premium.
Fill out our Fast Response form for more on Florida mortgage rates, purchasing or refinancing. Our mortgage lenders are like family. They are here to discuss your home mortgage needs in the Jacksonville metro area. Give the local branch a call at (904) 332-7800 today.
Tags: Everyday Living, first time home buyer, Home Ownership in Florida, jacksonville, Jacksonville House Hunting