"Back on track" is how Jacksonville's Daily Record described the local economy. During the recession, the city was hit particularly hard, which is why residents are especially happy to learn that its recovery is moving faster than the national average. A strong local economy is good for everyone in Jacksonville, but homebuyers have been waiting to learn what the recovery means to them. How will North Florida's economic growth affect the real estate market? We're here to tell you.
1. Tighter Inventory—at First
Florida remains 3.2% below its pre-recession employment levels, but that's changing everywhere, especially up north, and people in other states are paying attention. As Jacksonville and its surrounding metropolitan area improve economically, they're generating new jobs, which is attracting new residents. Economic growth almost always results in population growth, and Jacksonville is no exception, which means inventory may become even tighter than it is now. As first-time homebuyers in Jacksonville decide to leave the renter's life behind, they won't just face competition with each other but from the people flocking to the state. Local real estate is poised to have more bidding wars and higher listing prices, but that won't last long.
2. Spikes in New (and Old) Listings
Jacksonville is already visibly changing with new construction in neighborhoods and developments outside the city. Some analysts have gone as far as to call the real estate market "booming," because it's seeing huge growth, at least compared to the rest of the nation. With higher demand and more cash flow, contractors are reaping the benefits of the recovery—and furthering it by creating more jobs when they build new homes. As builders in a lot of America still struggle to find work, Jacksonville contractors are struggling to keep up with the demand. When they do, new inventory at every price point will abound, meeting the demands of every kind of homebuyer.
The recovery will also lead to more old listings. The recession hit homeowners especially hard, and many Jacksonville residents experienced the discomfort of negative equity. That put a halt to home listings, since no one wanted to sell at a loss. As wages and home values rise, the already shrinking number of underwater mortgages will continue to decrease. Many of the first-time homebuyers from before the recession will finally be poised to sell their starter homes and upgrade to something larger. This change should result in a strong inventory of financially accessible homes.
3. Tipping Scales between Buyer and Seller
Assuming North Florida continues to lead the way in the housing recovery—and at its current rate—Jacksonville should be a seller's market for awhile, as higher demand outpaces the inventory struggling to keep up. It will keep up, though, and the recent uptick in new construction will only continue, offering an array of homes for buyers of any budget. These new listings will be strong competition for homeowners trying to sell. In the coming years, they might see fewer bidders than someone who's listed their home for sale today. Of course, if they're upgrading, that future buyers' market will work in their favor. As with any housing market that favors one over the other, there will be pros and cons for sellers and buyers. What matters most is that the local economy is strong, a fact that has already benefited Jacksonville real estate in myriad ways.
Whether you're looking to buy a home in Jacksonville or ready to sell and want something new, we want to help you at every step along the way.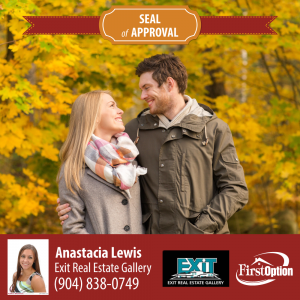 First Option works with Jacksonville realtors to help you find the best home, and we'd love to help connect you one of the best realtors in Jacksonville, Anastacia Lewis. Call her today with any real estate questions you have.
We also want to help you finance this home of your dreams. To learn more about our low down and no down payment financing options, fill out our Fast Response form or call our local branch at (904) 332-7800. Our experienced mortgage professionals would love to sit down and discuss your needs. We look forward to hearing from you!
Tags: 2014 Housing Trends, Florida Mortgage, Jacksonville Mortgage, Real Estate