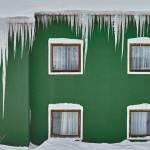 Winter is coming. You don't need someone from Westeros to tell you that. Soon the last leaves will fall from the trees and give way to snow, ice, and colder temperatures. Now's the time to brace yourself and prepare for the months ahead by "winterizing" your home. Some of these tips are gentle reminders, and some you might never have thought of. But all are meant to ensure you're not caught off guard when winter officially arrives.
Freeze out frozen pipes
Water expands as it freezes, putting pressure on its container. That goes for your pipes. Prevent them from freezing and breaking by draining excess water from sprinkler lines and outdoor hoses, insulating cold and hot water pipes, and trickling water through faucets during extra cold spells to keep standing water from freezing.
Spin your ceiling fan the other way
Turning on the fan in the winter might seem counterproductive. But here's an insider tip: Most ceiling fans have a switch that allows you to change the direction the blades spin. Switching the fan to spin clockwise pushes warm air that pools toward the ceiling to the floor and circulates it throughout the room.
Clean and seal your air ducts
A few weeks ago we discussed how faulty air ducts can exacerbate seasonal allergies. The point bears repeating here, but think about it from an energy-saving standpoint, too. Anywhere from 10 to 30 percent of air escapes from leaky air ducts. Clean and seal them now to avoid any headaches — both literal and figurative — this winter.
Dodge the drafts
Any warm air that leaves your home is wasted heat. Seal the gap under your doors by installing draft stoppers (sometimes called door snakes). They're easy to find in most department stores, but you can also make your own so they fit your decor and personal style. We suggest hitting Pinterest for some ideas on how to create beautiful and creative draft stoppers.
Gut your rain gutters
Those bright orange fall leaves are beautiful, but they can be menaces when they clog up your rain gutters. Making sure that water flows freely through gutters will help prevent icicles and ice dams from forming. And it won't cost you a thing to clean them out.
Give your heating system a tune up
Make sure your heating system is in tip-top shape when it starts to get cold. While you can do it yourself, it's best to have an HVAC professional take care of it. Just remember to schedule a tune-up early in the season as many companies' calendars will fill up fast.
Install a carbon monoxide detector
Take action now to protect yourself and your family against deadly carbon monoxide fumes. Buy and install a detector today. Chances are it'll never go off, but it's always better to be safe than sorry. Also, be sure to install it in an open area (not behind a couch) and set reminders to change the batteries.
Winter is one of the most wonderful times of the year. And it's even more wonderful when you can enjoy it safely and comfortably. For those who live in colder climates, we hope these tips will help guard your homes against the winter elements. For more tips or to tell us how you prepare for winter, join us on Facebook and Twitter, or contact us today!