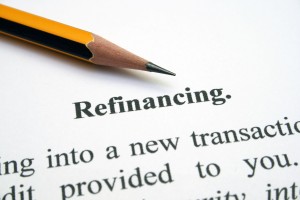 With mortgage interest rates no longer hovering in the 3% range, refinancing may not look as tantalizing as it did just a few months ago. On average, homeowners who refinanced in Q1 reduced their rate by 1.9%, which amounts to tens of thousands of dollars in savings over the life of the loan. Those huge figures aren't as common these days, but that doesn't mean refinancing should be entirely ruled out. Refinancing now remains a sensible solution for many homeowners, but a few questions need to be considered to determine if it's the right decision for you!
What Are You Paying Now?
Your current mortgage rate can be the best determining factor for whether or not you should refinance. Although rates have been on a roller coaster ride as of late, yesterday's announcement from the Fed sent mortgage rates down sharply so it isn't impossible to still find low rate loans. As a rule of thumb if you can drop your interest rate by 1% or more, it is worth considering refinancing your home.
Do You Still Pay a PMI?
Private Mortgage Insurance is required for all mortgages that received less than 20% as an initial down payment. If you're currently paying for PMI, you could save $95-200 by refinancing and dropping it. Refinancing looks at the value of your home, and if the current amount owed on your home loan is 80% or less than its value, you may be able to drop the PMI. If your home value has increased and/or you've built up enough equity, refinancing could save you thousands on the PMI payments alone.
Are You Settled in Your Home?
Anyone who considers refinancing has to factor in how long they plan to live in their home. Refinancing has upfront processing costs and fees associated with it, so the savings are generally long-term. If you plan to move within the year, refinancing probably won't be worth the effort, no matter how low an interest rate you find. If you're expecting to settle there for the next decade (or decades), even a small decrease in your mortgage's interest rate can pay off in the long-run. As interest rates continue to rise, now could still be the best time for you to lock in a lower fixed loan.
If you're planning to purchase, refinance, or learn more about mortgage rates, simply fill out our Fast Response form. Our experienced mortgage professionals would love to sit down and discuss your needs. We look forward to hearing from you!
Tags: 2013 Housing Trends, housing market statistics, interest rates 2013, mortgage education, mortgage interest rates, refinance, refinancing