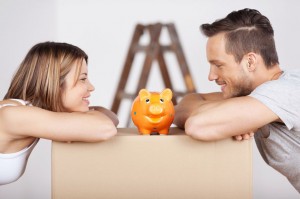 Moving isn't fun—or cheap. Whether your new home is a few streets away or on the other side of the country, you're going to have to spend some cash to move in. Just how much moving will cost depends, mainly, on how much time you have to move and how far you have to go. It also varies based on the weight of what you plan to take with you. Is it cheaper to pack and move everything or start from scratch and buy new stuff?
That depends on the stuff.
Think in Terms of Weight and Space
Survey your possessions and appraise them by weight and space. If you hire movers, you should know they weigh their trucks after loading up your possessions, usually charging about $100 per 100 pounds. So the heavier and larger something is, the more it will cost to pack and ship. Pianos and old oak desks will eat into your moving budget, but little things like paperweights and wine bottles also add up quickly. One of the ways to reduce the stress of moving is to purge as you pack. Eat all of the food in your cupboards; give away weighty knick-knacks; and try selling the larger pieces of furniture you just can't afford to take with you.
Consider Appliances Heavy Bargaining Chips
Replacing a refrigerator can be expensive, but moving it can cost a lot too—and leaving yours behind with a buyer can get you a better deal when you close on your home. If your buyer offers you cash for your washer and dryer, or agrees to pay the closing costs in exchange for your appliances, it's usually a good idea to take them up on it. Bargaining with your appliances often results in money gained during the sale, money saved during the move, and brand new appliances once you arrive at your new home.
Scrap Everything You Don't Like
Are you sick of that lumpy old couch you inherited from your parents? Toss it—and everything else you no longer have a use for. Moving allows you to do a deep cleanse of your possessions, and selling or scrapping will save you on your moving bill.
Don't toss everything. Even if you've fallen out of love with your headboard doesn't mean it's cheaper to buy a new one at your new home. Zillow estimates that moving a 3-bedroom, 1,000 square foot home from Chicago to Miami would cost around $4,600. Furnishing a whole space will cost quite a bit more, without factoring in the shipping or delivery fees of new furniture. Examine everything you own, and only get rid of things you absolutely don't want or need anymore.
Pack Everything You Can't Replace
By the same logic, you should pack everything you can't replace. Even if they're heavy and spacious, family heirlooms and possessions of real sentimental value should always make the cut. Your new home won't quite feel like home unless you have your grandmother's quilts, jade figurines from that business trip to China, and kids' first attempts at abstract art.
Summon Tetris Powers in Your Moving Truck
There are some standard tips for how to pack a moving truck, but doing it efficiently will be the cheapest. If you decide to pack and ship without movers, you'll have to pay more for larger trucks, so try to fit everything neatly into a smaller rental. Using every square inch possible as you're filling it up will ensure you're able to pack the majority of your possessions.
Toss a Coin about the Rest of Your Stuff
You're going to leave things behind. That's inevitable. People almost always leave Dora the Explorer toys and DVD bookshelves by the curb when they move, because there just wasn't room for stuff they haven't seen since it was stuck in the attic. Once you've packed up and loaded all of your essentials, toss a coin about the things you have left, and replace the rest rather than pay higher fees to rent another truck or ship it via mail.
Moving is rarely cheap, but replacing everything in your new place will be a costlier solution. Be smart about what to pack and ship.
If you're relocating soon and curious about how moving costs will affect your ability to buy a new home, contact us to speak with First Option professionals. We'd love to help and offer advice about purchasing, refinancing, or whatever homeownership questions you may have.
Tags: first time home buyer, house hunting, Real Estate, Selling Your Home