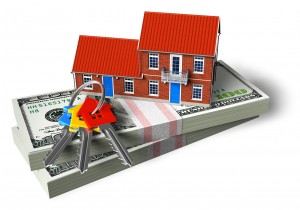 The Colorado housing market has been heating up and
recent reports
have homes in Northern Colorado selling faster than they have in years. Between low interest rates, limited supply and an improving economy, prices have increased as much as
51% over the last five years
in places like Denver. This leaves some lucky homeowners in a position to tap into some equity in their homes.
One way to tap into your investment is to refinance your home mortgage with a cash out refinance. The benefit of this, is that you will be refinancing your 30-year or 15-year mortgage into a new lower interest rate mortgage rather than just taking out a line of credit on your home and maintaining the current rate on your fixed first mortgage.
How Does an FHA Cash Out Refinance Work?
FHA cash out refinances are similar to other conventional loans on the market today. Like any FHA home loan, this type of Colorado mortgage offers a low fixed interest rate, lower closing costs, and can include lenders credits to cover the closing costs. It also has more lenient credit requirements than many conventional loans.
The amount that you are allowed to get back in cash depends on how much equity you have built up. In order to move forward with a FHA cash out refinance, you will need to have your home appraised. You can take out up to 85% of the appraised amount up to the maximum loan limit for your area.
For example, if you live in Denver and your home appraises for $267,950 and you owe $197,000 on your Colorado mortgage, you would have access to as much as $57,000 in built-up equity in your home. Once you refinanced, your new 30-year fixed mortgage would be set at the previous loan amount, plus the amount you tapped into or $254,000.
Other Considerations
You will have to pay closing costs on your FHA cash out refinance. This can run into the thousands of dollars. Even if it's not coming directly out of your pocket because you're rolling the expenses into your new loan, you will want to make sure that you are tapping into enough equity to make it a lucrative decision for you to refinance.
Another important note of consideration is whether or not you're currently paying mortgage insurance and how much you are paying monthly. Beginning in June, all FHA loans will be required to carry mortgage insurance for the life of the loan. In some cases this can amount to an additional $100-$200 a month. Make sure you fully understand your current obligations and your new obligations under an FHA refinance to make sure you are benefiting from this type of loan.
If you are interested in considering a Colorado FHA Refinance or would like to discuss some of the other Colorado refinance programs First Option has available, simply fill out our Fast Response form or give us a call in our local branch office located at (303) 803-1900. Our experienced mortgage professionals would love to sit down and discuss your needs. We look forward to hearing from you!
Tags: Colorado FHA Cash Out Refinance, Colorado mortgage, Colorado Refinance, Denver Refinance