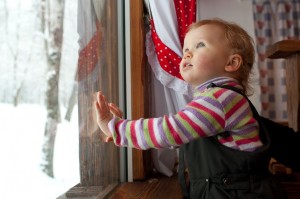 Cold winter weather can cause cabin fever more than anything else, especially for kids—or maybe more especially for parents trying to distract them. If you're like many Americans this year, you've already had more snow days than you know what to do with. There may be even more ahead, so consider these indoor activities to do with your kids.
1. Read a Book—or a Dozen
Many parents hope to instill a love of reading in their children, and a cold day indoors is one of the best opportunities to do that. If your kids are old enough to read themselves, set aside a few 'book hours' every morning, and think about making a game out of it. Whoever reads to most books—or logs the most reading hours—by the end of the week receives a prize. If your little ones are too young, you can still spark their imaginations by reading some of your favorite childhood books to them.
2. Get a Head Start on Spring Cleaning
You may need warm weather to tackle the flower beds out front, but you can organize your attic and clear out junk drawers in any season. If your kids are feeling restless inside, put them to the task of helping you clean. If you're facing a week of winter storms, choose one room a day to tidy up and make spotless. This will give you and your kids tangible goals and visible fruits of your labor.
3. Learn a Recipe
Is there a dish or a baked good you've always wanted to try? Winter days are a great time to warm up the house with the oven, and a great time to teach your kids some basic culinary skills. Try a new recipe every day, and gradually give more responsibilities to your children. Even if the meal doesn't turn out perfectly, you'll enjoy yourselves, and that is what really matters.
4. Write Letters
Christmas letters are way overdue, but if you didn't send anything out at the end of the year, you can still send out a Winter's Greeting, while teaching your kids the art of letter writing. Assign them a few people, relatives and family friends, to write to, and if they finish before you, show them how to address envelopes.
5. Set up a Scavenger Hunt
During nap- or television-time, write and hide clues around the house with a treat at the end. Scavenger hunts can be as elaborate or simple as you want. If puns and riddles aren't your thing, use a thesaurus to direct your kids to the next clue. This wordplay can expand their vocabulary while maintaining the fun of the game.
If you're interested in purchasing, refinancing, or learning more about mortgage rates, avoid driving in bad winter weather by simply fill out our Fast Response form online. Our experienced mortgage professionals would love to discuss your needs. We look forward to hearing from you!
Tags: Everyday Living, first option mortgage, first time home buyer