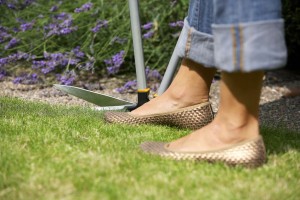 You could modernize every appliance, repaint every room, and stage the perfect open house, but no one would notice if they never walk inside. It can be argued that your home's curb appeal is the most important component of selling your home, since so many people judge the exterior of houses like the cover of books. That first impression may not make or break a sale, but it usually determines whether someone sets up a viewing or not. If you want to attract potential buyers driving past or scanning through online real estate listings, you need to increase your home's curb appeal. This doesn't always require weeks of landscaping; you can make improvements in a single afternoon.
1. Edge the Sidewalks, Curbs and Driveway
Buyers want to see a tame, well-trimmed lawn, so regular mowing is a given for anyone trying to sell their home. Increases in curb appeal, though, require changes you hardly notice until you make them. To really make your lawn pop, cut the overgrowth to give it clean edges along sidewalks, porches, flowerbeds—every place that borders grass. Home department stores rent out heavy-duty edgers, but you can buy simpler edge sheers, or produce the same effect with any weed eater. Just be sure you wear eye protection, since you'll be kicking up a lot of dirt and debris. While you're at it, pull up or kill any weeds that have grown.
2. Paint Your Door
Repainting the whole exterior of your home can really increase your home's curb appeal, but it isn't always feasible, especially if you need to sell quickly. An easier solution is to paint your door, which enhances the entire home. A fresh coat of paint on this focal point can make the rest of the house appear new and pristine. Opt either for a color that pops but complements your home's brick or siding, or choose a plain, clean white to appeal to the most potential buyers. After you paint, polish the handle and knocker to give it an extra gleam.
3. Trim Bushes and Trees
Like the effect of edging your lawn, cutting off a dead tree branch or scaling back the growth of shrubbery will immediately make your home look neater, tamer, and more attractive to passersby. You may want to consult with a lawn care specialist to risk damaging your plants, or consult an online guide for pruning trees.
4. Buy and Fill Planters
If you already have flowerbeds, make sure to weed them regularly and kill pests to keep the plants looking vibrant. Colorful flowers and other greenery can increase your home's curb appeal better than anything else. If you don't have any, purchase a few large planters for your front porch. These species grow especially well in containers, and they're brilliant enough to catch the eye of anyone on the road. You might also consider buying a few long planters, which are more appropriate for small gardens.
5. Add Some Furniture
Though this might cost a bit more, it won't require more than an afternoon of assembly, and it can make a huge impact. Consider buying a bench or porch swing to make your space more inviting. While it technically isn't furniture, a bird bath in your flower garden or beneath a tree adds significant charm—and if strategically placed it can hide a patch of dirt where grass just doesn't grow.
If you're preparing your home for sale and are interested in purchasing, refinancing, or learning more about mortgage rates, simply fill out our Fast Response form. Our experienced mortgage professionals would love to sit down and discuss your needs. We look forward to hearing from you!
Tags: 2014 Housing Trends, Everyday Living, house hunting, housing market statistics, Real Estate, Selling Your Home