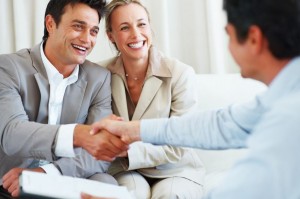 Providing you have done a good job selecting the mortgage lender that will be representing your interests during your home purchase process, you can be confident knowing that your lender will be trying to get you the best loan possible, the best rate possible, and is taking into consideration any extenuating circumstances during the loan process.
In order for your lender to be as effective as possible and to minimize hiccups along the way here are some important items that you should always remember to disclose to your lender.
Blemishes on your credit
There are several items that, if found on your credit report, could significantly reduce the likelihood of qualifying for a mortgage. Collections, judgments, tax liens, prior bankruptcy or foreclosure, or if you have been a victim of identity theft.  You may not think that small flaw on your credit report is a big deal, but it could have major implications on what type of loan you qualify for and what your interest rate will be. It could even prevent you from qualifying altogether. Being upfront with your lender about what he or she can expect to see on your report is crucial.
Job changes or pay status changes
A job change will typically affect everything in your life and your mortgage is no exception to this rule. Besides checking your employment status when you apply for your mortgage, banks will oftentimes re-verify this information 24 hours before mortgage closing. If your lender learns you have started a new job, the mortgage can be delayed or even completely derailed. Of course, if you get a job with more income, this could qualify you for a larger mortgage. The best course of action is not to switch jobs during the lending process, but if you do, make sure you notify your lender as soon as possible so proactive measures can be taken.
Changes to your purchase agreement
Material changes that are made between you and the seller must be relayed to your mortgage lender. If you negotiate a slightly lower sale price, it can alter the loan-to-value ratio on the home and will require a re-submission of the loan documents. Also be sure to disclose any additional documents or addendum's that are introduced into the sales contract during the purchase process.
Big purchases
If possible, it is best just to hold off on taking on any additional debt while you are in the process of obtaining a home loan. A major purchase like a car can be a deal killer if your not careful. Even leasing a new car will fall into the category referred to as "new-debt". While you may very well be able to take on the monthly mortgage payment and monthly car payment, a car can significantly impact your debt-to-income ratio and possible drop you below the lenders debt to earning credit standards.
Make sure when you select your Colorado mortgage lender, that you feel comfortable giving them personal information about your finances and maintain an open line of communication with them at all times during the qualification and purchase process. Keeping your lender informed on changes in your finances or life will allow them to be proactive and keep the process running smoothly.
If you are interested in speaking with one of our Colorado mortgage specialists or are interested in getting more information about the loans we offer, simply fill out our Fast Response form or give us a call in our local branch office located at (303) 803-1900. Our experienced mortgage professionals would love to sit down and discuss your needs. We look forward to hearing from you!
Tags: Colorado Mortgage Lender, Denver Mortgage, first option lending, first option mortgage