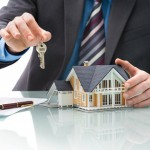 The Federal Housing Administration (FHA) has made several changes to its policies, all of which are included in the latest version of its handbook. The policies took effect on September 14th, when the FHA began implementing the new manual.
The handbook, which is also available in PDF form, comes in at a whopping 855 pages and covers every angle of the FHA mortgage insurance program. The information is definitely geared toward mortgage lenders (such as detailing paperwork procedures and underwriting guidelines), but potential borrowers may also find some of the information helpful. Here are a few highlights that could affect how you go about applying for an FHA loan.
Current FHA guideline: The only required documentation of a gift fund is a canceled check from the donor.
New FHA guideline: A bank statement showing the withdrawal of funds from the donor's account will be required, and any large cash deposits in the donor's account will need to be explained.
FHA definition of family members
Current FHA guideline: The definition of a family member is limited to the applicant's spouse, children, parents, grandparents, siblings, aunts, and uncles.
New FHA guideline: The new definition of who qualifies as a family member doesn't discriminate against anyone on the basis of actual or perceived sexual orientation, gender identity, or legal marital status (including domestic partners).
Qualifying for an FHA loan while working part time
Current FHA guideline: The underwriter may use discretion when the potential borrower has been employed part time for less than two years but is likely to continue working.
New FHA guideline: Proof of two years' uninterrupted part-time income is required.
Deferred loans and minimum payments
Current FHA guideline: Loans deferred longer than 12 months from closing don't have to be counted in ratios.
New FHA guideline: In many cases, the FHA will require underwriters to use 2 percent of outstanding student loan balances to calculate a minimum payment, which could lower the approval amounts borrowers may qualify for.
Stay tuned to the blog for more highlights from the FHA's new handbook. And, as always, please contact us if you have questions regarding the new policies and how they might affect your loan application.