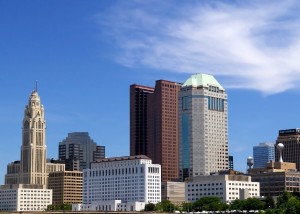 Before you apply for apply for an Ohio mortgage, you need to know what you're getting yourself into. Understanding how lenders calculate mortgage rates will keep you ahead of the game. Ideally, before you even apply, you'll be able to optimize your assets and application to ensure you receive the best loan possible. So how is a Columbus mortgage rate determined? We've pulled aside the curtain and outlined the steps and processes to show you.
Credit Score
Your credit matters. It might just be the most important factor in determining the interest rate of your loan. Lenders want to see that you have a good history with credit and a high income to debt ratio to reduce the risk of you defaulting. We've outlined before how your credit score is determined, which is necessary to understand if you plan to improve it before applying. Credit scores of 760 or higher generally receive the best rates, but if you can increase your score even a handful of points, it can have a big impact on your mortgage rate.
Down Payment
Borrowers are only required to put 3.5% down on their Columbus mortgage, but the more you put down, the lower your interest rate will be. Putting at least 20% down can ensure you receive the best rate—and it will save you on the monthly charge of a Private Mortgage Insurance (PMI).
Clean Application
Every lender wants to see accuracy on your application. You might not be able to muster up a huge down payment or be able to increase your credit score much, but you can optimize the paperwork you turn in. Disclose everything to your Columbus lender beforehand, and provide adequate documentation for all sources of income and other assets.
Timing
Timing is everything when getting the best interest rate in Ohio. Once your application has been approved, don't wait to lock in the offered rate. Because they're tied to the federal reserve or other investment systems, these rates can fluctuate even within a 24-hour period. If you receive an offer on a good interest rate, don't delay!
We want to help you find your next home. If you're currently planning to purchase, refinance, or learn more about mortgage rates, simply fill out our Fast Response form or give us a call in our local branch office at (614) 602-6020. Our experienced mortgage professionals would love to sit down and discuss your needs. We look forward to hearing from you!
Tags: Columbus Mortgage, interest rates 2013, mortgage education, mortgage interest rates, Ohio Mortgage