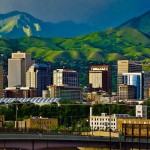 At the base of the Rockies, stretching some 50 miles across the Wasatch Front, sit the Silicon Slopes. The term popped up a few years ago as the Salt Lake Valley and surrounding areas saw a rapid increase in tech jobs, due in part to the success of companies like Vivint, Qualtrics, and Omniture (which Adobe acquired in 2009). Adobe then opened a 280,000-square-foot campus in 2013 halfway between Salt Lake City and Provo, adding 1,100 jobs to the area. And the flood of tech-related jobs doesn't seem to be slowing any time soon.
STEM Economy in Utah
Utah houses an unusually high number of people who hold science, technology, engineering, and mathematics degrees (commonly abbreviated as STEM). In addition to the tech industry, the state boasts a high saturation of healthcare, engineering, and finance workers. From the University of Utah's Huntsman Cancer Institute — one of the world's top research facilities — to Rio Tinto's Kennecott Copper mine and the second-largest Goldman Sachs office in the U.S., the country's top-performing sectors are well represented.
Salt Lake City's Booming Housing Market
Salt Lake City is among the top choices for young college graduates. Grads are flocking to the area, filling jobs and creating new ones. It's no surprise, then, that the Utah housing market has surged in recent years. Several sources list Salt Lake City as one of the fastest growing and most stable housing markets in the U.S. And we haven't even begun talking about how Utah is a haven for families and outdoor enthusiasts. Maybe we'll save that for another blog post.
If you've been looking for a change of pace, now might be the time to point your wagons westward. We can help you get started. To learn more about the housing market in Salt Lake City, contact our Utah branch today.
Tags: Real Estate, Salt Lake City