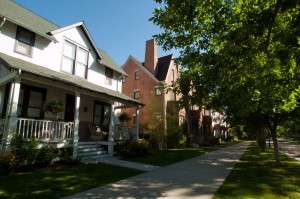 Everyone knows to inspect a home before buying it, but inspecting a neighborhood too often occurs as an afterthought. More than termites, lawn upkeep, and modern appliances, the health and future of a neighborhood can be the greatest factor in determining the worth and value of a home. If you've found a home you love, make sure the surrounding neighborhood will make it a wise investment by following these tips.
1. Look for People
Americans may not spend every evening on the front porch like they did in Mayberry on The Andy Griffith Show, but the presence of people can tell a lot about the safety of a neighborhood. Are there kids riding bikes on the street, mothers walking together in the morning, retirees gardening? Bars on the window are a blatant sign that a neighborhood is heading in a bad direction, but the presence or absence of people is a more subtle way of knowing whether or not people feel safe there.
2. Consider Local Businesses
What stores are nearby? What industries operate in the area? How close is the nearest grocery, and is it the kind of place you would shop? Answering these questions will reveal who will likely frequent your street, and the general stability of the neighborhood. Grocery stores reveal an economy and population that's settled in the area, whereas bodegas, liquor stores, and service stations only offer the most basic goods to transitory individuals. You should look for an economy supported by a neighborhood where people live for years, not just a few months.
3. Count the For Sale Signs
The number of home sales can reveal the turnover rate of a neighborhood, though there's no set ratio to calculate this. Generally, if you notice quite a few For Sale signs on every street, it either suggests few people settle into those homes indefinitely—or that the neighborhood is turning south. If the home you want to buy is one of only a few houses on the market, it's safe to predict most residents enjoy living there, and plan to for awhile.
If you're interested in purchasing, refinancing, or learning more about mortgage rates, simply fill out our Fast Response form. Our experienced mortgage professionals would love to sit down and discuss your needs. We look forward to hearing from you!
Tags: first time home buyer, house hunting, housing market statistics, Real Estate