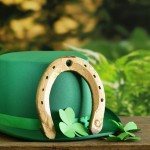 What do you do to celebrate St. Patrick's Day? In Chicago, they dye the river green. In New York, more than three million spectators line the streets to watch the parade. And in O'Neill, Nebraska, they party with a hypnotist, a fish fry, and a reading of "Green Eggs and Ham." This is the one holiday that everyone seems to celebrate — whether they have Irish blood or not. In that spirit, we've compiled some fun and family-friendly ideas to include in your St. Paddy's Day celebration this year.
Party prep
If you're throwing a party and want to put an upscale twist on the decor, take a page from Lemon Thistle's book and create some classy St. Patrick's Day party decorations. If you have little helpers who want to get in on the action, set them up with a couple of these arts and crafts, and let them help you decorate the house!
For the party food, you can go with the ubiquitous green-frosting-and-rainbow-candies style or whip up some real Irish food instead. Either way, you'll find lots of great ideas out there. If you haven't done a lot of cooking with the whole family, start out with easy-to-make Irish soda bread. If you and your kids are already fabulously accomplished chefs, take a crack at these other Irish dishes. And if you're interested in going the more colorful route, these St. Patrick's party nibbles from Martha Stewart are as decorative as they are delicious.
Party play
For small kids, the wonder and magic of leprechauns is alive and well. Start the day off right by turning your tap water green. While it's simple, it'll wow all your pint-sized party guests. All you need is a couple of coloring tablets. Add them to the bathroom faucet and the toilet tank the night before and wait until your little ones discover what the leprechauns have magicked into the house.
When all the party kids are ready for activities, get them started by building leprechaun traps, teach them how to play the hidden shamrock math game, or jumpstart a hands-on demonstration of differences in mass with this rainbow liquids jar. You can also find inspiration in this list of 25 fun and educational St. Patrick's Day activities.
While you could do all these activities with the whole family, most of them are tailored to the 12-and-under crowd. If you truly want to have blast with the whole group, you can't go wrong with the leprechaun beard challenge. All you need is some shaving cream and cheesy puffs (and perhaps some protective floor covering if it's not warm enough to play outside).
To get started, partner up and apply shaving cream to the lower half of your face, just like a beard. Then, set the timer for 60 seconds. Facing each other, but standing several feet apart, take turns throwing cheesy puffs at each other's shaving cream beards. The person who gets the highest number of puffs in their partner's beard before time's up wins. This game is one that always ends in hysterical laughter, no matter who's playing.
St. Patrick's Day has become one of the goofier celebrations as time has gone on, and for good reason. The real St. Patrick wasn't even Irish and he didn't chase snakes out of Ireland, so why not use it as an excuse to embrace your silly side? After all, there's nothing better than loosening up and having fun with your family. Tell us how you celebrate on Twitter and Facebook. And if you're thinking of buying or selling your home, get in touch with us! Sláinte!