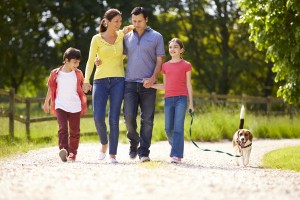 You put a lot of time into understanding the current housing market in your area, hiring a realtor, and prepping your home for sale. But your work is not done. Now you have to balance continuing your everyday life, while maintaining the home for potential buyers to view. Follow these tips on how to sell your home while living in it.
Related resource: "How To Buy A Home While Selling Yours"
Less Is More
If you've toyed with the idea of starting to pack your belongings, now is the time to take action. Homes sell faster when potential buyers can imagine their family in the home. It can be difficult, but make sure your Christmas photos are put away and the junk drawer is (finally) cleaned out.
Focus first on the rooms scrutinized the most by buyers. These include the kitchen, bathroom, master bedroom, closets, and storage spaces like the attic, basement and garage. Create a room-by-room list of what you're keeping and what must go when you sell your home. Pack up items you want to keep, but don't use daily. Ask family and friends if you can store your packed items at their home, or invest in a storage unit. If your home is priced right and shows well, then you won't need the storage unit for long.
For the items you're not keeping, consider holding a garage sale. With a garage sale, you can make extra cash while you bring new people to the property. While yard-sale enthusiasts are unlikely to turn into potential buyers, you are increasing your chances of natural word-of-mouth promotion. Be sure to alert your realtor of the yard sale so they don't plan a showing during that time. If you don't have time to hold a garage sale, donate your unneeded items.
Have an Escape Plan For Showings
Rushing around cleaning and having to leave the home abruptly for a showing is not only stressful – you're more likely to leave something out or miss something that needed to be cleaned, which ultimately can deter potential buyers. Let your seller agent know how much advance notice you need for showings. For some this could be as little as 2-hour notice, others need 24 hours. A shorter notice time usually means more potential buyers can be scheduled for showings. Impromptu visits are just as likely to sell your home as scheduled ones.
To help keep your home spotless for showings, spend 15-30 minutes each morning or night tidying up. You will save yourself a lot of stress by applying a daily maintenance routine. If needed, create a checklist to follow and share it with those that live in the home.
Additionally, you need a place you can go while your home is being shown. You can use this time to catch up with neighbors and friends, visit a coffee shop, or go to the library or a park. You can also dedicate showing times to run errands or do your own house hunting.
Tips For Selling Your House When You Have Children And Pets
Another option is to take your pet on a walk while showings occur. You can make it a fun family activity. At the same time, you're promoting a healthy lifestyle for everyone.
See if your realtor has suggestions on how to sell your home when you have children and pets. Your realtor likely has a lot of experience in this area. Find your happy medium of packing up children's toys and still leaving enough unpacked to keep them entertained.
When it comes to pets, it boils down to odor control. We recommend you deodorize your carpet and upholstery with a neutral scent. When you can, leave the windows open for fresh air. Have a friend without pets walk through the home to detect any strong scents. Many pet owners think their pets don't have an odor, when in fact they do.
Whether you're already in the market to sell your home or you're just getting started, First Option Mortgage is here for you. Our mortgage lenders want to help you find your next home. We have also partnered with a number of real estate agents across the country. We've vetted our partner agents so you don't have to. Contact First Option today!
Tags: first option mortgage, homeowner, selling home