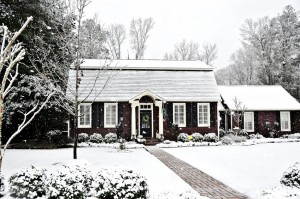 Despite the poor weather, barren landscape, and shortened daylight hours, not all is as bleak as it seems when it comes to selling your home during the winter months.
While the number of house hunters actively looking drops, those on the market tend be more serious buyers and inventory is typically tighter as less urgent sellers put off listing their home until the spring.  To take full advantage of listing your home in the off  season months, here are five steps you can take to improve your chances for selling.
Invite People In
Take away any barriers that will prevent potential buyers from getting into your home easily. Just like lawn maintenance during the summer, shoveling snow and scraping hazardous ice from pathways and driveways will make your home look maintained and help invite buyers in to look. 
Let the Light In
There is less of it this time of year so make the most of the light you have! Make sure your windows are clean to let the most light in possible. Open curtains and blinds during daytime showings and during the evening hours, turn on every light in the home including appliance and closet lights. If you have a room that feels a little dark, you may also want to consider adding some spotlights on the floor behind furniture.
Cozy up Your Home
Turn the heat on and if you have a fireplace, start a fire to create a warm and inviting atmosphere and give buyers a reason to linger on a cold day. Some HVAC systems can be loud so set your thermostat a couple degrees higher than usual before potential buyers arrive; this will keep your heat from kicking on while they are touring the home.
Use the Season to Your Advantage
Don't go overboard with holiday decorations, but vases filled with winter flowers, dried wreaths, afghans tossed on your furniture, and winter aromas like scented pine cone or cinnamon will help to stage your home and bring the most memorable aspects of the season into the space. This will help leave a lasting impression and make your home stand out in a buyers memory.
Emphasize Winter Positives
Is your home located near a school or on a bus route? Perhaps it is close to a vital service that means your street will get de-iced or plowed regularly. Point out these winter positives and use them to your advantage. They are worth mentioning to potential buyers that will be thinking about spending future winters in your home.
Remember, buyers who are searching during the winter months are motivated and need a new home so taking some extra steps to make your house stand out from others on the market may be all that is needed to give you an added edge and get an offer on the table!
Whether you're looking to purchase, refinance, or learn more about mortgage rates, our experienced mortgage professionals would love to sit down and discuss your needs. Simply fill out our Fast Response form or give us a call at 888-644-1999.
Tags: house hunting, Real Estate Tips, Selling Your Home, Staging Your Home