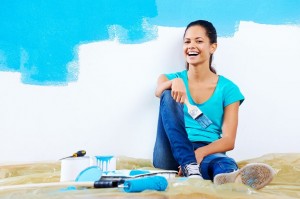 People get married for countless reasons. Love generally plays a crucial role, but so do dreams of family, companionship, and a sense of security. Qualifying for a mortgage isn't a common incentive to tie the knot, but it's often an added benefit. With two incomes and double the credit history, married couples can sometimes qualify for a loan much more quickly than single applicants—which isn't to say it's an impossible feat. If you're single and applying for a mortgage, consider these tips to qualify without a hitch.
1. Pay Off Superfluous Debt
Reducing as much personal debt as possible before you apply for a mortgage can improve your chances at qualifying, especially since the debt to income ratio cannot exceed 43% with the new 2014 mortgage rules. Ideally, your ratio should be substantially lower than that. Try to pay off as many credit cards and student loans as you can. Of course some debt is okay, and expected, but any that you can take care of, you should.
2. Secure Your Down Payment
With only one source of income, your down payment can be a critical factor when qualifying for a loan. Many times, parents and other relatives will help with a financial gift to go toward your home, but with thrifty budgeting you can save up for the down payment yourself. The process can take months, sometimes years, to secure the funds, but even without a partner's financial resources, you can do it.
3. Buy within Your Budget
Make sure you have a realistic idea of what you can afford—and maintain. When you're a single homeowner, all responsibilities and upkeep are up to you. If you're not particularly handy and expect you'll need to hire carpenters, plumbers, or gardeners with some regularity, shop a little under your budget so you'll have the extra funds to care for your house.
4. Invest in the Future
It is important to consider the future. If you want a family, you'll eventually want a home for them. When you're single, though, consider your home an investment, and prioritize a house that will appreciate over one that has a perfect nursery. You may very well settle into this home for decades, but look first for a house that will appreciate by the time in the near or distant future you're ready to sell.
If you're interested in purchasing, refinancing, or learning more about mortgage rates, simply fill out our Fast Response form. Our experienced mortgage professionals would love to sit down and discuss your needs. We look forward to hearing from you!
Tags: first option mortgage, first time home buyer, home mortgage, house hunting, mortgage education, mortgage lending, Real Estate