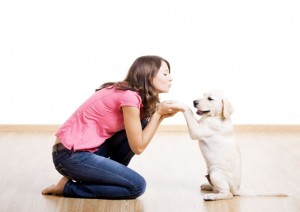 People adopt dogs for a variety of reasons, though children desperately wanting a puppy are very often a factor. Companions, running buddies, and security guards: these animals can fill many roles in our lives, but all of them come with a lot of responsibility. Beyond care, training, and attention, you have to give your dog a suitable home, which often means making adjustments. If you're about to bring home a new puppy, follow these steps to make sure your house is ready—for your sake and theirs.
1. Designate a Puppy Area
Coming to a new home is like moving for a pet: the complete change can be overstimulating, so you need to introduce them to the space gradually. Set aside an area where the puppy will live and sleep for the first few weeks. Utility rooms work well, so do bathrooms—or really any enclosed space with tile or other flooring that won't be damaged by inevitable accidents. Once you've chosen an area, puppy-proof it by removing anything that could be chewed, scratched, or damaged and adding a crate and dog bed—ideally large enough to accommodate your puppy as she grows.
2. Invest in No-Chew Spray
Quite a few companies make a spray that deters dogs from chewing on things, usually by giving them a bitter taste. It can be a wise investment, not only to protect your furniture and more precious possessions, but to protect your puppy from chewing and choking on shoelaces and household chemical bottles. If you find that he likes to gnaw on a certain corner or section of trim, spray that too before damage becomes too severe.
3. Establish a Care Schedule
If your children influenced your decision to bring home a puppy, they probably promised to take care of her and walk her daily. To keep them accountable and ensure you're not overwhelmed by responsibilities, hold them to that with a care schedule. Outline who's in charge of feeding and watering your puppy every day, who will take her outside, and who will commit to playing with her regularly. In the first few weeks, everyone will be focused on this rambunctious, cute addition to the family, but establishing a care schedule from the start will result in a routine after the newness wears off.
4. Buy Size-Appropriate Leashes and Toys
Your puppy can use a large bed, but he'll need collars and toys of various sizes as he grows. Toys with ends and tassels small enough for his mouth will give him an alternative to your furniture to chew. A right-sized collar or harness, too, is necessary when you begin leash-training him—when he's most apt to run away.
5. Locate Nearby Dog Parks
Your local Parks and Recreation site should include information on what parks are suitable for dogs, and which ones have spaces where your puppy can romp around without a leash. You may not want to surround your puppy with too many dogs, especially when they're young and at higher risk of diseases, but it's helpful to know where you can walk to, and what nearby places have the best amenities for dogs. Read up on dog park etiquette before you take your puppy to be around other animals, and make sure she's up to date on her shots and flea medication.
If you're ready to bring a puppy into the family and are interested in purchasing, refinancing, or learning more about mortgage rates, simply fill out our Fast Response form. Our experienced mortgage professionals would love to sit down and discuss your needs. We look forward to hearing from you!
Tags: Everyday Living