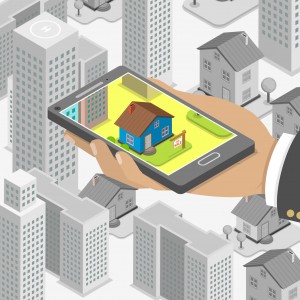 Buying a house can be one of the most rewarding, yet stressful, things you'll do in your life. And it can get even more taxing if you're attempting to find your perfect home in a different city or state without being able to see it first-hand.
Fret not long-distance home shoppers, we've got you covered. Whether you're moving to the East Coast from the West Coast or just from the sleepy suburbs to the bustling city, here is our helpful guide to hunting down a great home from any distance.
Research via family and friends
Research should be your first priority. See if you have any family members, friends, or even friends of friends living in the area where you're looking. If you can't think of anyone you know in the area, turn to your preferred social network to find acquaintances. Odds are, someone you know online will know someone who lives in or near the area you want to move to. Ask them about their favorite neighborhoods, streets, or surrounding regions to begin your search. Local knowledge is some of the best around.
Research via the internet
The internet has brought the world closer together. It's amazing how much information you can find from a handful of websites and a few minutes of searching. Local weather, jobs, crime statistics, nearby schools, home prices — it's all just a few clicks away.
Here are some great destinations to check out:
First, go to a professional real estate site like Zillow to find sale listings in the area you want to move to. You'll get information on pricing, appreciation, and the value of other homes nearby.
Google is a wealth of information on any topic. The site has already mapped out most of the country block by block, so visit Google Maps to see a bird's-eye view of your potential neighborhood. Then check out the Street View option to take a virtual walk down your potential new street.
For a more detailed look of the offerings in the neighborhood, see any given street's walkability
Do you have children? If so, you know how important a good, local school will be to your decision-making process. Find schools nearby, and see how they rank on a scholastic level.
Find an agent or realtor
The next thing you'll want to do is find a good realtor or real estate agent in the area you want to move to. Realtor.com is an excellent source for finding the right advocate for your remote home-shopping search. You can search by zip code, city, state, or even agent name if you've gotten a recommendation.
Once you find an agent or company you like, check them out on the Better Business Bureau website to make sure they're the right choice for you.
You'll want to ask them all sorts of questions, too, starting with their ability to represent you remotely. Distance should never hinder a potential agent from answering any concerns you have about a home.
Additionally, see if your agent can use their phone or laptop to give you a virtual tour or walk-through of a house you're interested in. Most smartphones have that feature built into them, so it shouldn't be much of a problem.
Rent first, if time and money permit
In an ideal world, we would recommend renting in your potential new city just so you can explore the neighborhoods first-hand. But that's not always a viable option. If you don't have the time or budget for something like that, you should at least be prepared to travel to the destination a few times before making the final decision. Set aside a few thousand dollars for rental cars, plane tickets, and hotel stays.
Are you thinking of moving soon? First Option is always available to help. Reach out to one of our trusted team members today, or connect with us on Twitter and Facebook.
Tags: home buying, moving, real estate agents