They say moving is one of the most stressful parts of our lives. The chaos of packing and the disruption to our daily rhythms can be pretty rough. For kids, moving away from friends and adapting to a new environment can be especially difficult. Here are a few ways you can help your kids feel at home in your new place.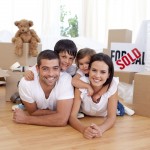 Make decorating a team sport
For most kids, feeling left out can be a real bummer and lead to some serious boredom. By giving your kids the opportunity to choose a theme for their bedrooms and help decorate, you can involve them in the process and make certain chores more fun. The more you involve your children in the decorating process, the more ownership they'll feel.
Camp out in the back yard
Moving is an adventure, so why not treat it like one? If they're up for it, camp out with your kids in the backyard for a night. If you have a big enough yard, play some hide and seek at dusk and then top it off with s'mores before bed. Too busy to plan a full campout? Check out these other ideas for backyard camping.
Get a routine going
Kids — like all of us — depend on habit for comfort and stability. While moving can be hectic and affect mealtimes and sleep schedules, it's important to get things back to normal as soon as possible. What were your traditions and routines at your previous house? When were the kids supposed to be in bed? Try to recreate your previous schedule as much as you can.
Explore the neighborhood
Take an afternoon to bike or walk around your new neighborhood and see the sights. Check out the nearby parks and let your kids socialize with new friends. This is a great way to get the lay of the land and meet the neighbors. And if there's something close by, maybe stop for an ice cream cone on your way home.
Moving doesn't have to be a stressful event for everyone in your household. With just a little extra planning, your family will feel comfortable at the new place in no time.
We love helping families move into their dream homes. If you're in the market for a new place, contact us online or call us today at 888-644-1999.