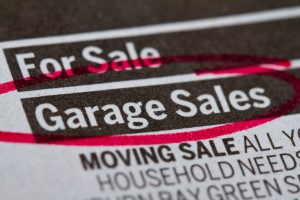 When you begin packing to move, you'll find things you forgot you owned, and quite a few things you no longer want to own. Some people take the opportunity to donate huge hauls to Goodwill; others just leave it on the curb for the garbagemen. If you plan ahead, though, you can get it off your hands and make a little money in the process with a garage sale. They can be fun and lucrative if they're done right. To make sure you don't waste your time, consider these tips for how to have the best garage sale ever.
Band Together
Generally with garage sales, the more stuff you have to sell, the better. Larger garage sales tend to draw in bigger crowds, since there's a better chance people will stumble across a treasure or something they're looking for. Anyone can throw a garage sale, so ask your neighbors, friends, and anyone you know who's also moving soon and see if they'd like to band together and sell some of their stuff with you. A multi-family garage sale will bring in more browsers, alleviate some of the work for you, and make the whole sale more fun if you're doing it with others.
Advertise
Like any business endeavor, you have to get the word of your garage sale out to the public. List an overview of the items you'll be selling, including some specific pieces like a treadmill or lawnmower. Craigslist offers free advertising for garage sales, but don't discount the traditional advertising of newspaper classifieds: many older people who attend garage sales still resist the Internet, so you could recuperate the small fee quickly. Creative signage posted in a 20-block radius will also draw in crowds, and post to bulletin boards in the communities you may already have—your kids' little league teams, churches, and, if appropriate, workplace. The number of people who hear about your sale is directly proportional to the number of people who will come to browse and buy from you.
Time It
Timing can be everything, especially with garage sales, which usually sell non-essentials. Try to have your garage sale around the beginning of the month, when people are more likely to have been paid. Serious shoppers are more likely to only show up on the first day, so schedule your sale when many people are available—Saturdays are generally a popular day of the week. Be sure to check the weather regularly too. If there's a sudden forecast for rain, reschedule. The best weather brings in the best crowds.
If you're planning to purchase, refinance, or want to learn more about our mortgage rates, simply fill out our Fast Response form or give First Option Mortgage a call at 888-644-1999.  Our experienced mortgage professionals would love to sit down and discuss your needs. We look forward to hearing from you!
Tags: Everyday Living, first option lending, first option mortgage, Homeowner Tips and Advice, Selling Your Home