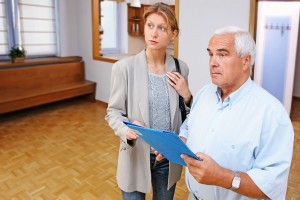 A successful open house depends on a lot more than a thorough cleaning and staging. Those are of course essential, but they're basics every open house should have covered. To make your open house attract ideal buyers and stand out among others, you need to go above and beyond. We know how important getting top dollar for your home is, which is why we've outlined some steps to have the most successful open house you can.
Advertise Digitally
Spread the word of your open house on as many networks and forums as possible. Your realtor should have access to quite a few sites, where you can publicize the times you're showing your home, but don't stop online. In this world of smart phones, look into real estate apps and advertise into a potential buyer's hands. Even if it costs a few bucks to download, finding the right buyer will be worth it.
Post Signage
With so much digital information available, it's easy to forget about the traditional forms of advertising, which can still be effective. A week or two before your open house, post signs about it. These can attract browsers who cruise your neighborhood, looking for potential homes, and it can draw in foot traffic on the day of the open house.
Ask Neighbors
It may seem intrusive to have neighbors looking through your house, but they can serve as the best salesmen. Many of your neighbors are on the lookout for nearby houses for their friends and family, so consider sending fliers, advertising your open house, to nearby homes.
Remove Bias
It's always better to be safe than sorry when showing your home. If you have anything polarizing or potentially offensive in your home, remove it. Photos of you with a politician, animal rugs, and books by controversial authors can be off-putting to certain home buyers, which is the last thing you want to happen with your open house.
Vacate the Premises
Potential buyers want to feel safe and comfortable discussing what they like and dislike about a home, and your presence can prevent that. An hour before the open house, leave and allow your realtor to handle guests. If you have pets, be sure to take them to a neighbor's or friend's house.
Take Precautions
Open houses carry the risk of theft, so take precautions to make your home secure. Valuables and prescription drugs should be locked up or taken with you when you leave; doors should be left open; and all potential buyers should be escorted by your realtor as they walk through the home. It's wise to have a sign-in list, where individuals provide a drivers license or other state-issued ID to deter crime.
Schedule Shrewdly
Determine when most open houses in your area are, and schedule yours on an off-time. If your open house lasts an hour longer than most, or begins an hour earlier, you're likelier to draw in bigger crowds.
Whether you're looking to purchase, refinance, or learn more about mortgage rates, our experienced mortgage professionals would love to sit down and discuss your needs. Simply fill out our Fast Response form or give us a call at 855-300-4339. We would love to hear your story!
Tags: 2013 Housing Trends, Everyday Living, house hunting, Selling Your Home