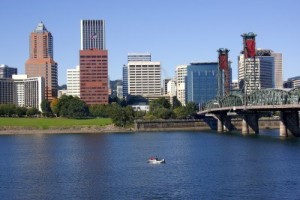 The mortgage rate you're quoted can vary greatly depending on many factors including your personal financial situation, the type of property you are looking to purchase, and the type of loan you are trying to secure as well as activities and fluctuations in the financial market.
So how do you know you are getting quoted the best possible Portland mortgage rate? Here are five steps you can take to ensure you get the best rate possible.

1.  Shop Around 
Being a savvy buyer when it comes to mortgages can end up saving you thousands of dollars. There are many mortgage companies in Portland and on a national level that you can secure your loan through. Don't be afraid to shop around and get multiple quotes so you can make an informed and educated decision.
2.  Pay Attention to the Markets
The biggest factor in the determination of mortgage rates is the financial market. Portland mortgage rates are currently very competitive, but with growing demand for homes and limited inventories nationally, many are predicting the days of rock-bottom rates may be coming to an end, so now is a good time to secure your loan.
3.  Talk to a Local Professional
Meeting face-to-face with a Portland lender will provide you with more personalized service. It is important that your lender have a full understanding of your current financial situation and your goals in order to offer you the best possible mortgage.
4.  Entertain All Available Options
Rates will differ depending on the type of loan you qualify for, how much you have for your down payment, and the length of the loan you would like to secure.  Exhaust all your options before you make a decision. Compare fixed rate and adjustable rate mortgages as well as 15-year and 30-year mortgage terms to determine what you can afford and what will get you the best possible rate.
5.  Discuss Buying Down Your Rate
This requires some up-front capital, but depending on how long you plan to stay in your home and keep your mortgage, you can save thousands in the long run buying down your mortgage interest rate. Discuss it with your lender to see if it makes sense based on your finances and goals.
Once you have analyzed all the information you've gathered, you can feel confident that you are making the best decision and getting the best rate possible for your Portland home purchase.
To speak with one of our local Portland mortgage lenders about our current mortgage rates, simply fill out our Fast Response form or give us a call in our local branch office in Lake Oswego at (503) 840-6400. Our experienced mortgage professionals would love to sit down and discuss your needs. We look forward to hearing from you!
Tags: first option mortgage, home mortgage, mortgage interest rates, Mortgage Portland, Mortgage Rates Portland Or, Portland Mortgage, Portland Oregon Mortgage, refinance, Refinance Portland