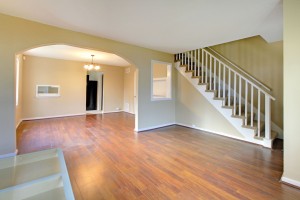 The moment all first-time homebuyers dread: filling their newly purchased home with furniture, decorations, utensils, appliances — the whole nine yards.

It's not an easy task, and it's easy to go the path of least resistance and just walk into one store and buy everything that's on sale. Unfortunately, if you do that, you might end up with tons of junk you don't want in a few months' time. Our tips and tricks (as well as room plan ideas) will help keep you sane and happy during this fun part of new home ownership.
Go room by room
This one's easy. Take it one room at a time. Remember math class and the order of operations? Here's your order of operations when you start furnishing a room.
Necessities: Make sure everything you need to live in the room is taken care of first. If it's a bedroom, does it have a bed? Does the kitchen include a stove and a refrigerator?

Accoutrements: Next, move to the helpful accessories. Maybe this means adding an end table or TV to a living room, a night stand in the bedroom, or shower caddies in the bathroom.

Hangings and decorations: Finally, you can start hanging up photos and decorating the house the way you'd like it to look.
When you feel overwhelmed, remember to take a deep breath and collect yourself. It'll guide you through to the end.
Find the stuff
It's the 21st century, folks. That means no more getting stuck with whatever the local department store has. Consult the internet for deals on various appliances and furniture, and make sure to troll craigslist for deals, too!

If there's an item you like, don't hesitate to ask for discounts and lower prices. Because there are so many options, you don't have to get attached to a single thing or idea.
Make it all work together
Before you start the arduous process of moving everything in and making sure it all looks good and fits together, you should come up with a game plan. Remember how you found the necessities earlier? Now plan around them. Think about how your room can best encourage the use of all the necessities. There are plenty of guides to be found online to help you arrange the room, and there are also plenty of helpful apps and tools to take you through the process.

Now you're ready to get going and move everything in! If you've got any tips or tricks, share them with us on Twitter or Facebook. And if all this decorating talk is getting you excited about moving into a home of your own, get in touch with us today.
Tags: Decorating, DIY, furniture, new home