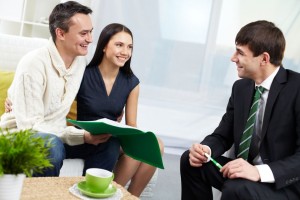 For most prospective homebuyers, the challenge is not finding a mortgage lender, but is in finding the right mortgage lender for the job. Between banks, lending companies, mortgage brokers and online lenders, it can be overwhelming to try to determine who can give you the best deal, is working with your best interests at heart, and will provide you with the highest level of service throughout the purchase process.
While of course, we here at First Option Mortgage would love for you to consider using our services during your discovery process, ultimately our goal is to make sure you get a mortgage that makes sense for your financial situation, even if it does not end up being with us. With that said we would like to provide you with a few things to look out for when shopping for the right Portland mortgage lender.
Are They Asking A Lot of Questions?
If they aren't, they should be! Mortgages are not a one size fits all product and in order to find a mortgage tailored to your financial needs, your mortgage lender should be asking lots of questions about what your current financial state is and what your short term and long term goals are. A jumbo loan designed for a customer looking to buy in the west hills is going to be far different than one for a first time buyer looking at a loft in the south waterfront.
Are They Transparent About The Closing Costs and Fees?
There is no such thing as a zero closing cost mortgage loan. You may not have to bring money to the closing table, but that just means the costs are being absorbed another way. It may be in a higher interest rate or added points on the loan. One way or another, everyone at the closing table is making money off the transaction or why would they be there?
It is important that your mortgage lender be completely transparent about how the closing costs and fees are being covered so you know 1) how much to bring to the closing table and 2) how the terms of your loan could change by bringing additional funds at closing if you have them at your disposal.
Are They Giving You a Quote That Includes Taxes and Insurance?
Any good lender should be providing you with an quote that includes your estimated monthly payment into your escrow account. This will be used to amortize you're your yearly homeowners insurance and property taxes into more manageable monthly payments that you will pay when you make your mortgage payment.
Unscrupulous lenders can sometimes intentionally leave this out of the quote they provide to make the monthly payment seem far less than they will actually end up being.
Purchasing a home is already an intimidating process. If you don't feel like you have the right people working on your side, it can seem downright scary. But if you're surrounded by the right team of people including a quality mortgage lender, that fear can be taken out of the equation and you can focus on what's important, which is making this life transition a success!
If you are interested in speaking with one of our Portland mortgage specialists or are interested in getting more information about the loans we offer, simply fill out our Fast Response form or give us a call in our local branch office located in Lake Oswego at (503) 840-6400. Our experienced mortgage professionals would love to sit down and discuss your needs. We look forward to hearing from you!
Tags: first option mortgage, home mortgage, Portland First Time Homebuyer, Portland Mortgage, Portland Mortgage Broker, Portland Mortgage Lender, Portland Oregon Mortgage Tips