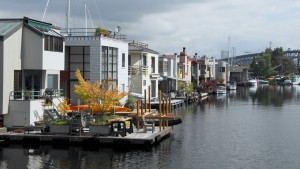 Home prices nationally are on the rise. CoreLogic reported at
12.1% year-over-year gain
in April and we have seen even steeper increases in hot markets like Phoenix, Las Vegas, Denver and many cities in California. With housing prices making gains as much as 24% in Phoenix and in the high teens in other parts of the country, for many affordability is becoming an issue. So how can you find a home in a hot market that won't break the bank? Here are some unique ideas and more affordable options to consider.
Houseboats:
Boats can make great homes and many cities have marinas located on rivers, bays, and lakes that have developed houseboat communities in them. Houseboats can range in price and of course you can spend a pretty penny on a houseboat if you want to, but you can also find used houseboats in the $50,000-$80,000 range. You will have to pay a dock slip fee, but can avoid yearly property taxes, which can save you thousands. Not only is this an affordable option, but has become quite trendy as well.
Renovation Properties
An FHA 203(k) loan will allow you to purchase a fixer upper and roll your renovation expenses directly into the home loan. This is a great option for first-time homebuyers in a hot housing market. It requires just 3.5% down and allows you to purchase affordable properties that you can build up some immediate equity in by making some smart renovations on the home. Improvements allowed under this loan include decks, flooring, kitchen and bath remodels, and other structural and cosmetic improvements.
Buy a HUD Home
A HUD home is a home that was financed with an FHA loan and has been foreclosed upon. These types of homes are sold using a bidding process and can come at a bargain basement price. You will simply need to secure a standard mortgage loan and work with a real estate agent to get your bid placed. Keep in mind, HUD homes are sold as is, so be sure to get the home thoroughly inspected before you make your offer.
Seek Out Alternative Housing
There are many unique and affordable homes that are being built today using recycled materials such as shipping containers, pallets, straw bales, geodesic domes and other unusual materials. While this is not everyone's idea of ideal living, you would be surprised how many modern comforts can be built into these non-traditional homes. These homes can range in price, but can be as little as $30,000-$40,000 to build in some cases. Add in the cost of a small plot of property, and you could find yourself living an affordable and environmentally friendly lifestyle.
No matter what type of home you are interested in buying, First Option Mortgage is here to help you achieve the dream of homeownership! If you're planning to purchase, refinance, or want to learn more about our mortgage rates, simply fill out our Fast Response Form or give First Option Mortgage a call at 888-644-1999.  Our experienced mortgage professionals would love to sit down and discuss your needs. We look forward to hearing from you!
Tags: 2013 Housing Trends, Everyday Living, first option lending, first option mortgage, first time home buyer, house hunting