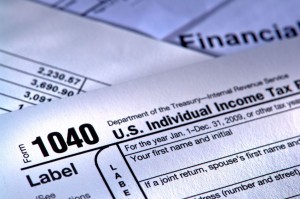 Deducting the interest you pay on a mortgage is one of the nicest benefits of owning a home. Come April, you're likely to save quite a bit when you file your taxes. Unfortunately, like all things involving taxes, filing your mortgage interest deduction is complicated. As you prepare to file, you need to know what forms to look for—and what to do with them. We're here to help.
Documents and Forms You Need
Before you start, you will need to determine if your deductions exceed the standard deduction for your tax bracket. If you have only your mortgage interest to deduct and it does not exceed the standard deduction, you will likely want to file a standard 1040. If you have many deductions, which could include your property taxes, mortgage insurance, and student loan interest, and their total exceeds the standard deduction, you'll want to itemize and file the 1040 Long Form to itemize and save more.
You'll also need:
Form 1098, Mortgage Interest Statement, which you should obtain from your lender.
HUD-1 Settlement Statement if you bought or sold a house in 2013, and which is available from your escrow company.
Publication 936, Home Mortgage Interest Deduction, Schedule A, and Instructions for Schedule A, all of which come from the IRS. Publication 936 will include a worksheet for calculating your mortgage interest.
Qualifications for a Mortgage Interest Deduction
In most situations, every homeowner qualifies to deduct their mortgage interest, but a few restrictions apply.
The interest must be from a loan used to buy a home, a home equity line of credit, or a construction loan.
Deductions are only allowed for interest paid on your main home and a secondary home. Any additional housing properties you own are not tax deductible.
You must be legally liable for the loan. If you've helped a struggling friend or family member make mortgage payments, you can't deduct that money. You must have a legally-binding relationship with the lender.
According to the IRS, the mortgage must be a secured debt on a qualified home.
Secured Debt on a Qualified Home
A secured debt means that your qualified home serves as a security for the payment of the loan—so if you default, your home could satisfy the balance—and that the loan has been legally recorded. Qualified homes are any main and/or secondary homes that have sleeping, cooking, and toilet facilities. It may be a house, condominium, duplex, mobile home, etc. The IRS Publication 936 sets these requirements and standards.
If you're interested in purchasing, refinancing, or learning more about mortgage rates, simply fill out our Fast Response form. Our experienced mortgage professionals would love to sit down and discuss your needs. We look forward to hearing from you!
Tags: Everyday Living, government assistance, Government programs, home mortgage, homeowner tax credits, mortgage payment