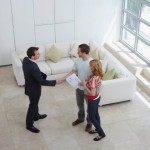 Building a green home is good for your pocket book when it comes to energy savings, but it can also get you top dollar when it comes to selling your house down the road. Your home will appeal to a wider niche of home buyers, including those who are looking specifically for eco-friendly home options. So, do you know
how to sell your eco-friendly home
?
Don't rely on cursory home descriptions: Take actions to specifically promote your home sale via realtors, MLS listings, and more detailed descriptions in home sale websites.
Find a Green Realtor: There are more than 5,000 realtors that have a special Green Designation from the NATIONAL ASSOCIATION OF REALTORS. Rather than choosing a real estate professional who only knows the basics, opt for one who truly understands the value of your home's green features, and will promote them accordingly.
Post a Green MLS Listing: As the desire for eco-friendly homes has increased, so have the listing options for selling them. MLS continues to offer special, eco-friendly listing options in various locations across the country. Check to see if your area has an MLS system that allows you to highlight specific features, like solar panels, energy efficient HVAC systems, and so on.
Use Every Listing Option Possible: When posting your home on property searching websites, check carefully to see if they have sections for green certifications or designations such as LEED, Energy Star or National Green Building Standard. Take advantage of additional comment or message boxes where you can list your home's features specifically.
According to market research, certified eco-friendly houses sell quicker than their traditional counterparts, so capitalize on every opportunity to advertise your home's green features.
We encourage you to contact us at First Option Mortgage for more on how to sell your eco-friendly home.
Image Source: iStock.com/IPGGutenbergUKLtd
Tags: first option mortgage, home selling tips