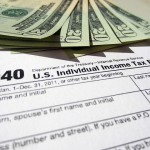 If you pay a mortgage every month and haven't deducted the interest from your taxes, you could be leaving money in the IRS's pocket. But before you start imagining your huge April return, make sure the deduction will actually apply to you. Read on to find out just how the IRS defines and restricts this lauded, but tricky deduction.
Itemized deduction or standard?
First of all, in order to take the deduction, you have to qualify for itemized deductions as opposed to the standard deduction. Not sure if that applies to you? It's pretty simple to figure out. First add up any deductions you're qualified to take. This means you'll probably have to do the math to figure out how much you'd qualify for in mortgage interest deductions before you even know for sure whether you get to take those deductions (aren't taxes fun?). Take a look at some of the most common tax deductions, as well as a few of the most overlooked tax deductions to get a sense of what else you could claim besides mortgage interest.
If you're single (or married and filing separately) and all those deductions add up to less than $6,300 — or $12,600, if you're filing with your spouse — then there's no point in taking an itemized deduction (including the mortgage interest deduction). You're better off just taking the standard deduction and calling it a day. But if your deductions do climb over $6,300 minimum  for the year, read on. You might yet qualify for the mortgage interest deduction.
Tax deduction vs. tax credit
Once you determine that you'll probably qualify for an itemized deduction, you have to make sure that you check all the IRS boxes that qualify you for the mortgage deduction. And remember, it's only a deduction (not a tax credit), meaning you don't get every dollar of interest you paid back. You simply don't have to pay taxes on the money that went toward mortgage interest.
Here's where it gets complicated
While most mortgages qualify for the deduction, any deviation from traditional homeownership — for example,  if someone else is on the paperwork despite the fact that you're the one paying the mortgage — could make the deduction useless for you. Many people run into this issue when a parent steps in to help them secure the mortgage in the first place. Even though you paid the mortgage interest all year, since it's not your name on the paperwork, you're not entitled to the deduction.
You can probably take the deduction, as long as:
You're listed as the the owner of the house

It really is your primary residence (complete with a bathroom, kitchen, and sleeping area)

You're the borrower on the mortgage loan

The house costs $1,000,000 or less

You're the one who paid the mortgage all year
Even if all these apply to you, it's best to double check with an accountant to see whether you can take the deduction. Besides the peace of mind, having a professional prepare your taxes for you often pays for itself and then some.
Whatever happens with your taxes this year, feel free to contact us anytime with questions about mortgages or homeownership. And if you're looking for more tips and information, join us on Twitter and Facebook!