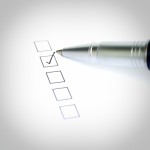 The prospect of purchasing a home can be a very exciting time in your life. But before you start creating your "must-have" list and searching for a home, you will want to make sure your finances are in order.  Start by making a home buying checklist that includes these important tips that will help you purchase your dream home.
 Pay down credit and pay on time. It is important to show lenders a sizeable gap between what you earn and what you owe. This shows financial responsibility and is typically an indicator of good credit. You also want to make sure that all of your payments are made on time. If not, this can adversely affect your credit. Make it a goal to skip out on unnecessary purchases and dinners out and put that money toward your debt. You will be amazed at how much you can save when!
 Save for a down payment. In order to avoid paying PMI or FHA mortgage insurance, you need to put 20 percent down on a house. Make this your goal. However, you can still purchase a home with as little as 3 percent down. Plus, having a down payment is a great sign to lenders because it shows you are able to save money.
 Organize your paperwork. It is no secret getting a home loan requires a significant amount of paperwork. The most common documents required of you will be W2's, tax returns, recent bank statements and pay stubs and some form of identification. Collect these documents and start a file for them. Also, it is important to know updated income documentation will be requested throughout the course of your loan. When they become available to you, be proactive and send in your updated documents.
 Get pre-qualified. Find a loan originator you are comfortable with and will take the time to explain your options. Then get pre-qualified so your real estate agent can show you homes within your price range.
Image Source: FreeDigitalPhotos.net
Tags: Buying a Home, first option mortgage, home buying checklist, house hunting checklist