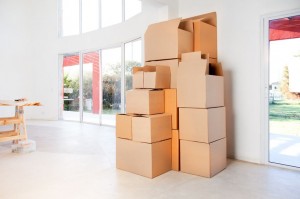 Few people enjoy moving, not the process as a whole or any of its individual parts. Carrying heavy boxes and pianos, coordinating travel, unpacking in a way that isn't total chaos: It's never fun, but it's a bit easier if you consolidate your possessions before the move. As you're preparing to pack up your home, ask yourself these questions to know what to move, what to toss, and what to sell.
1. Will Your Family Miss It?
When older relatives die, children and grand-children and sometimes great-great-grandchildren often inherit family heirlooms: photographs and Bibles, immigration documents and old love letters. These usually sit in boxes for years, but this doesn't mean they're disposable. Look through all of the knick-knacks, documents, and pieces of furniture you've inherited over the years, and ask about each one: "Will my family miss it?" Even if you don't look through the boxes often, you're an entrusted record-keeper for other relatives and future generations. Many—but not all—of these heirlooms probably deserve a place in your new home.
2. Do You Remember Buying This?
Couples tend to get overenthusiastic with wedding gift registrations, asking for things they want in the moment but may never actually use. Moving tends to reveal this, and as you're clearing out cabinets, you'll find quite a few fondue pots and glassware sets—and in all likelihood some laughably dated kitchen appliances. If you don't remember buying it (much less using it), keep it out of the moving boxes. This stuff is rarely junk, but if you never took it out of its box in the last house, you won't in the next, so add it to a pile of garage sale items—or put up a post on Craigslist.
3. Does This Work Anymore?
We all have great intentions of buying a soldering iron or ceramic glue one day and repairing broken gadgets. Usually, though, these cracked bowls and picture frames sit in drawers or closets for years, never to be fixed or used again. If you come across old walkie talkies or toaster ovens that just fizzled out, don't bother putting them up for sale, just recycle or toss them.
4. Will This Fit in the New Home?
Our aesthetics and sense of design changes with time, and moving allows you to start from scratch. If you've been hankering to change your home's color palette, or bring in a new style of furniture, you should leave some of your old possessions behind. If your current hutch or sofa set doesn't conform to the current color trends or your vision for your new place, sell it now and save yourself a heavier move.
5. Do You Still Need It?
It might be the most basic—and obvious—question, but most of us tend to hold onto things beyond their use. If your kids have outgrown their swing set, if you have a shelf of supplies for hobbies you never do anymore, if your old computer works, just not as well as your new one, you don't need these things. The good news is, someone else probably does and will buy them—or at least haul them away.
If you're getting ready for a move and are interested in purchasing, refinancing, or learning more about mortgage rates, simply fill out our Fast Response form. Our experienced mortgage professionals would love to sit down and discuss your needs. We look forward to hearing from you!
Tags: Everyday Living, Real Estate, Selling Your Home