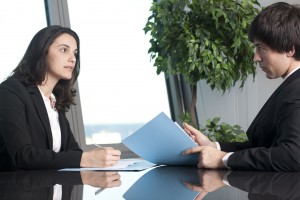 When looking for a new home, getting pre-qualified for a mortgage should be the first step you take. Not only will it help to narrow your home search by identifying what price range and neighborhood you can afford, but it will also show sellers that you are a serious buyer and can be used as a negotiating tool when you make an offer.
With thousands of mortgage lenders and brokers in Colorado, how do you go about finding the right lender? Here are some questions you can ask potential mortgage lenders to help narrow down your search:
1.  Which mortgage do you think is best for me and why?
Are you a first time homebuyer? Are you moving from another home in Colorado or coming from out of state? What is your financial situation? Have you ever been in the military? What area are looking to purchase in? These are all questions that can have an impact on the type of loan you may qualify for so it is important that your mortgage lender go through a full discovery process to make sure the loan they are offering you makes sense financially.
2.  Are you licensed to provide a Colorado mortgage?
Well, duh, right? This may seem like a silly one to include, but Mortgage rules differ from state to state and the lender must be licensed to offer a mortgage in the state of Colorado. This is particularly important to ask if you are getting a quote from an online lender.
3.  What is the interest rate, terms, fees and closing costs?
Closing costs will fluctuate from lender to lender. They can include an application fees, loan origination fees, points, appraisal fees, inspection fees, attorney's fees and more. It is important that you have a breakdown of what you will be charged to make an apples-to-apples comparison with other mortgage quotes you receive.
4.  How long will the loan process take?
Providing you have handed over all of the needed documentation ahead of time, processing will typically take anywhere from 7-10 days. If the lender expresses a wait time of much longer, you may not be receiving the attention you deserve.
5.  Is there a pre-payment penalty on the loan?
Pre-payment penalties are especially prevalent on sub-prime loans, which were particularly popular in Colorado during the housing boom.  You do not want to get stuck in a loan that you will be paying penalties on if you decide to sell your home or refinance before it is fully paid off.
6.  Are you a broker or a lender?
Mortgage brokers work as middlemen between banks and borrowers on the wholesale end to secure financing for homeowners, whereas mortgage lenders work for the bank that will be providing financing to the homeowner that work directly with the homeowner to provide financing. Working with a mortgage lender rather than a broker will provide you with more accountability, transparency, and in some cases a better interest rate.
7.  Will taxes and insurance be included in the monthly payment?
Rather than paying property taxes and insurance once a year, many people opt to have what is referred to as an "escrow account" to maintain the funds needed to pay these bills when they come due. If your lender did not provide you with a monthly estimate that includes these costs, your payments will seem artificially low and you may find yourself stuck with several thousand dollars in payments due at the end of the year.
Once you have found a mortgage company that you are comfortable doing business with and a loan officer that you know is working in your best interests, you can feel confident going out and shopping for your dream home!
If you are interested in speaking with one of our Colorado mortgage specialists or are interested in getting more information about the loans we offer, simply fill out our Fast Response form or give us a call in our local branch office located at (303) 803-1900. Our experienced mortgage professionals would love to sit down and discuss your needs. We look forward to hearing from you!
Tags: Colorado Mortgage Lender, Denver Mortgage, Denver Mortgage Company, Denver Mortgage Lender, Denver Mortgage Refinance, Refinance Denver