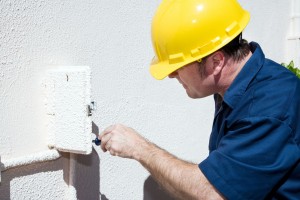 Getting a home inspection is an important part of the home-buying process. It is a measure put in place to ensure you're making a sound investment. The result can have a huge impact on your ability to obtain financing through a government-backed loan—and it can effect your bottom line based on the inspection results. While not all home loans require an inspection in order to approve financing, doing one regardless is highly recommended to provide peace of mind and ensure no potentially costly or hazardous repairs are needed upon move-in. Here are four mistakes to avoid during the inspection process.
New or Old Construction – Get an Inspection!
Many homeowners assume that because a home is newly built and has met the city or county codes an inspection is not necessary to ensure the home has no defaults. Wrong. Don't assume the builder has done everything right just because the home passed code. You never know what corners the builder may have cut until you get a thorough inspection by a third party expert. 
Not Vetting Your Inspector
It is important to interview your inspector and make sure he or she is the right candidate for the job. Find out what the inspection covers, make sure they have the necessary license and certification, and find out what type of report you will be provided with. This is a critical part of the home-buying process, and you will want to make sure you're in good hands when the inspection takes place.
Not Attending the Home Inspection
Whenever possible, you should absolutely attend your home inspection. This will give you an opportunity to consult with the inspector, ask questions, and see issues in person rather than reading about them in a written report. Without the opportunity to have a verbal review with your inspector, you may have a hard time identifying the seriousness of the disclosures within the inspection report. This is especially important since some of them may need to be addressed in an addendum to your real estate contract before you move on to closing.
Not Taking Advantage of the Home Inspection Contingency Period
If a negative report is provided, first, seriously consider the results of the inspection. If there are glaring issues with the home, now is the time to back out of your contract if you have a home inspection addendum in place. It can be a difficult decision to make once  you have invested time and money into the home-buying process, but think about the long-term costs if you do not. Second, negotiate any issues into your real estate contract and leverage the results of the inspection if you decide the issues are not serious enough to terminate the contract. This is the time to approach the seller about concessions and fixes that should be added as an addendum to your agreement.
It is your responsibility to be an informed buyer and to carefully examine your home purchase. By taking the necessary steps to get your home inspected prior to closing, you will sleep easier at night knowing you've made a solid investment in your future.
If you're currently planning to purchase, refinance, or learn more about mortgage rates, simply fill out our Fast Response form. Our experienced mortgage professionals would love to sit down and discuss your needs. We look forward to hearing from you!
Tags: first option lending, first option mortgage, first time home buyer, Home Inspection, house hunting, Mortgage, mortgage education, mortgage lending, Real Estate