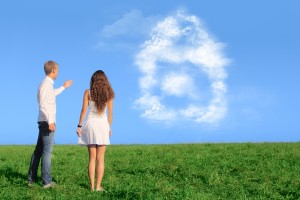 People compare house hunting to dating for a reason. It can take visiting quite a few "blind" open houses to know exactly what you're looking for in a home; it isn't uncommon to pine over a house that's already taken; and like most online dating profiles, real estate pictures and blurbs are deceiving. You have to meet a home in person to find out what it's really like. Similar to dating, too, is the potential for heartbreak. Just when you think you have found the right one, someone else can snatch it up, or you may discover it's out of your financial league. It's a hard process, but you can avoid house hunting heartache by following a few pieces of advice.
Get Pre-Approval
Before you even pick up a real estate guide, get pre-approval for a home loan. The most common house hunting heartbreaks occur when people fall in love with a home out of their price range. You need to know from the very start what you can afford and what you can't, which your mortgage lender will tell you. Once you know, don't even glance at homes above that price ceiling. They'll only cause heartache.
Expect to Be Hurt
A seller isn't obligated to like your offer. You might stumble upon the ideal home and offer the asking price (or even a little above), and the seller might not be interested. Finding the right home is very personal to you, but it's still business to whomever is selling it. Better offers and closing incentives are out of your control. All you can control is your expectation that it might not work out.
Stay Practical
Attractive people and beautiful homes can be equally captivating. When you're visiting houses, there's a good chance you'll swoon over some gorgeous feature or amenity that's unlike anything you've ever seen. These certainly aren't bad in themselves, but they carry the danger of distracting you from your real needs in a home. Before you start your search, compile a list of the features you're sure you have to have. This can be revised over time, but it's a critical list to consult to stay practical and grounded while house hunting.
Wait on Love
You could find your ideal home in your price range, have a great rapport with the seller, and make an offer that leads to a signed contract, but the deal's not done until everything passes the disclosure and inspection phase. Deals fall through at the last minute, with or without a signed contract, so wait to fall in love with a home until it's conclusively yours. Falling hard after assuming you have it in the bag can lead to the most painful house hunting heartache. Understand the deal might not work out at the very end, and remember that many other homes are out there, even in that worst-case scenario.
If you're planning to purchase, refinance, or learn more about mortgage rates, simply fill out our Fast Response form or give us a call at 888-644-1999.  Our experienced mortgage professionals would love to sit down and discuss your needs. We look forward to hearing from you!
Tags: Everyday Living, first option mortgage, first time home buyer, house hunting, mortgage education, Real Estate