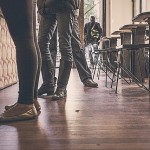 No generation has been more debated, romanticized, and criticized than millennials. With 80 million of them in the U.S. alone, they're the largest generation in history, and now make up a quarter of this country's population. It's no wonder they're dominating nearly every corner of the economy, even homeownership.
The new homeowners
Millennials already make up a third of American home buyers, but that doesn't mean the whole generation is finding it easy to get into their first homes. In fact, they're having a tougher time than nearly every generation that came before them.
Though over 80 percent of millennials say they want to buy a house, many are still renting. In order to continue thriving, the mortgage industry needs to make homeownership more accessible and appealing to this group.
So, what's the industry planning to do about it?
A conservative generation
It's true that millennials want more mobile apps and online options in every aspect of their lives. Since this generation grew up with the Internet, that's where they're most comfortable. And the industry is responding by building more products that increase visibility online and require fewer phone conversations. But millennials don't want to do everything online, and the online/offline issue isn't the only (or even the biggest) barrier preventing them from applying for home loans.
Though most millennials didn't own houses themselves during the recession, many had family members who did. They saw the fallout when jobs disappeared and borrowers could no longer pay their mortgages. Hitting the job market during or right after the housing crash has only increased nervousness around homeownership.
Millennials are a financially conservative generation, a fact that shouldn't come as a surprise given the economic uncertainty that surrounded them as they grew up, graduated from college, and entered the job market.
Financial barriers
Then there's the issue of qualifications. Many millennials won't qualify for home loans because they can't make minimum down payments, due in part to re-surging housing prices. Rising home values is great news for the economy overall, but it could quickly turn to bad news if the largest group who wants to buy can't afford them. High rent prices, low (and stagnant) salaries, and record high student loan debt is making it nearly impossible for this generation to save even five or 10 percent for a down payment, let alone the traditional 20 percent.
Jumping at the chance to appeal to millennials, Fannie Mae and Freddie Mac have reintroduced three percent down payment loans. Low (or even zero) down payment mortgage programs were relatively common before the housing market crash, but the recession inspired stricter entry requirements including higher down payments. Now many lenders are once again offering low down payment programs, though this time they're finding other ways to safeguard the loans and ensure repayment. Millennials will encounter stricter credit score requirements and more thorough financial history checks than their parents faced.
As the industry begins to adapt to millennials in order to get more of them into their dream homes, lenders will have to find a way to work with a generation that's poorer, less financially stable, and more averse to financial risk than Gen Xers or boomers. Helping millennials into their first homes isn't impossible, though. And given that the generation is clamoring for the chance to be homeowners, they just need the opportunity to prove their potential.
Are you a millennial who's looking to buy your first home? Get in touch with us! We'd love to help. And find us on Facebook and Twitter for more tips and information on homeownership.