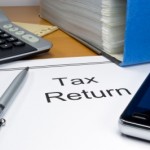 It's tax time and that means sorting through your financial records for the past year and getting everything in order. While you're pouring through your financials, be sure to remember the beneficial tax deductions for homeowners that you won't want to miss out on.
When you itemize your deductions, the most important one is the mortgage interest deduction. Effectively, every dollar you paid in interest on your mortgage can be taken off of your taxable income. You're allowed to deduct interest paid on a mortgage up to $1 million if married and filing jointly, or $500,000 if you're married and filing separately.
Keep in mind that second mortgages are included in these totals. Furthermore, you can also deduct interest paid on non-housing debt secured against the home such as loans taken out to pay for college education, etc.
When you itemize, you can also deduct the cost of private mortgage insurance. The caveat to this is that you and your spouse's combined income cannot exceed $100,000 if filed jointly, or $50,000 if filed separately. Of course, the IRS makes an allowance if you make more; if that's the case, deduct 10% per $1,000 you're over and that will tell you how much interest you can deduct.
Additionally, you can deduct prepaid interest. This is 100% deductible in the year you purchase your home in addition to any interest you've paid on the loan throughout the year. Again, this can be filed on Schedule A.
Do you still have questions regarding the tax deductions for homeowners that you may qualify for? While we are not tax professionals, we do want our customers to know about the tax deduction possibilities they can receive for being a homeowner. We invite you to contact First Option Mortgage by calling 888-644-1999 and we'll be happy to give you the answers that could help you save on your tax bill as you file your taxes.
Image Source: FreeDigitalPhotos.net
Tags: first option mortgage, mortgage interest deduction, tax deductions for homeowners