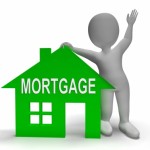 Finding the best home mortgage rate can save you tens of thousands of dollars over the course of your loan's lifetime. That money could be spent on much more valuable things, like a child's college fund, extra retirement investments or your annual family vacations.
Tips For Finding the Best Home Mortgage Rate
The following tips will help you find the very best rates on the market:
Get your credit in shape. Your credit score is one of the main determinants affecting your mortgage interest rate. Higher scores indicate a lower risk to the lender. As a result, the most competitive rates will be offered. Lower scores have the opposite effect and higher rates will be presented.
Get your debt-to-income ratio as low as possible. You can do this by making larger payments on your credit cards and paying down as many loans as you can.
Make a substantial down payment. Having a larger down payment means less risk for your lender. Also, a down payment less than 20 percent usually means you have to pay additional fees for mortgage insurance.
Shop around. Different lenders offer different incentives. Read the fine print carefully and look for mortgage offers with fewer fees attached to their bottom line.
Be prepared. In addition to your loan application and credit score, lenders will want an array of supporting documents. These include things like recent pay stubs, tax returns, bank and loan statements, and your real estate contract. Having copies on hand will speed up the process.
Contact us at First Option Mortgage and we'll help you find the lowest mortgage rates.
Image Source: FreeDigitalPhotos.net
Tags: first option mortgage, home mortgage rates, mortgage company, tips for finding the best home mortgage rate