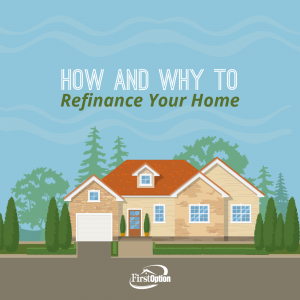 Refinancing your home can be immensely beneficial.
Taking advantage of new interest rates can lower your monthly payments, the total amount of interest you owe, and potentially save you thousands of dollars. To do that, however, you need to get a few things just right.
Know your goals and value
Before you refinance, you need to know what you want from it. Do you want:
A lower monthly payment?
A shorter term?
A lower interest rate?
Some combination of those?
Setting your sights on a goal is the first step.
Before you refinance, you'll also need to know a bit about yourself. Things that will play into your decision to refinance include:
Your home's current value
Your credit score
Current interest rates
How much cash you have on hand for expenses like insurance, taxes, and fees
Find out what type of refinancing is right for you
There's no one type of refinancing. Different types of refinancing will allow you to:
Lower your interest rate
Borrow more than you owe and take the difference in cash
Shorten the term of your mortgage
Put cash into your house
Get rid of FHA mortgage insurance
Go from a high fixed rate to an adjustable rate
Go from an adjustable rate to a low fixed rate
The type of refinancing you choose will depend on your goals and situation. Talk to your broker to see which kind is right for you.
Do the math
Refinancing does carry some up-front costs such as fees, taxes, and insurance, so make sure what you save exceeds what you'll pay. Work with your broker to determine your break-even point, how much refinancing will save you over the course of the loan, and how it will affect your monthly payments, term, and other variables.
Deciding to refinance
Making the call about when to refinance and at what rate can be a daunting process. Sometimes it can seem more like an art than a science. Work with your broker on making the right call about when to do it, what numbers to lock in, and what that will mean for you in the long term. With any luck, refinancing your home will help you save money for years to come.

Sources:
Investopedia, "When (and When Not) to Refinance Your Mortgage" http://bit.ly/2samlOp
Bankrate, "How to Figure out When and If You Should Refinance Your Mortgage" http://bit.ly/2samqBH
NerdWallet, "How to Refinance Your Mortgage" https://nerd.me/2sak0mw
Forbes, "4 Smart Reasons to Refinance a Mortgage" http://bit.ly/2tR8Cj9
Tags: infographic, Mortgage, mortgage interest rates