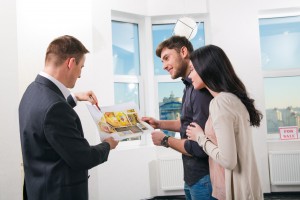 Spring and summer means flowers in bloom, barbecues in the backyard, and
open houses
in your neighborhood. Open houses are an opportunity for you to scope out a housing market, find and negotiate with brokers, and possibly
spot a house's red flags
. Sometimes an open house is something that you've scheduled, anticipated, and planned. Other times, you might be driving around, see a sign for an open house, and decide to check it out. Here are five tips for how to make the most out of your experience, and maybe turn an open house into your next house.
1. Map out your house goals
Prior to going house hunting, know what you want. Think about the type of home you're looking for, what part of town you want to live in, your price range, and other particulars. Ideally, speak to a mortgage professional before hitting up open houses. Depending on where you are in the home buying process, you'll want to get get pre-qualified (if you're still in preliminary stages) or (if you're ready to buy) pre-approved for a home. That will give you a much better picture of what kind of home you're looking for.
If you have all of that information on hand before stepping into an open house, that will work to your advantage. That way, even if you're driving along and suddenly see an open house that serendipitously catches your eye, you'll have your relevant information at the ready.
If you know in advance what home you want to look at, though, it can often be good to know the days on the market (DOM) of the house. If it's been on the market for a while, you might be able to use that to your advantage when making an offer. If it hasn't? Well, you might want to move quickly and get that offer ready.
2. Engage the real estate agent
In all likelihood, the agent showing the house will have a practiced speech or spiel ready to go about the house when you get there. After all, it's their job to sell it, so they should be ready to talk about the specifics of why it's an attractive home. Definitely listen to what the agent has to say, but don't be passive. Ask questions. Follow up on what they're saying. Not only will you get more information about what could be your future home, but questions will also show that you are an engaged and interested home buyer, and the broker will be more likely to consider a future offer you might make.
3. Be careful giving out your information
Most open houses will have a guestbook or other document for you to sign and fill out your relevant information. While it's polite to give at least your name, you're under no obligation to give your email address or phone number. If you're interested in the house, by all means, give the agent your information, but if you decide that you want to move on to the next home, just write your name and leave it at that. Don't give them wrong information, of course, but if you're just looking, a name is often enough.

4. Be respectful of the property
Open houses bend the rules of normal etiquette. It's a rare occasion where you can just walk into another person's home without knocking. But, there's still open house etiquette that you should adhere to.
It can be very tempting to immediately take out your phone and start snapping pictures of the place, but ask the agent first. It's still someone's home, after all, and while they might be OK with strangers viewing their bedroom or living room, they may not want pictures of their private space on your social media profiles. Also, don't bring any food or drink into the home. If the agent has made cookies or the like (which is common), feel free to partake, but don't walk around with anything from the outside that might result in crumbs or spills.
Should other potential buyers be viewing the property, it's generally respectful to wait for them to vacate a room before you enter it. If the seller is there, refrain from making negative remarks about their home until you're back in the privacy of your own home. It's important to be respectful!
If you have children, make sure that they're on their best behavior when you're at an open house. Oftentimes furniture or other belongings might still be set up. While knowing what your children think of a new home can play a part in your ultimate decision, it might be useful to leave the kids with a sitter if there's serious danger that they might wander off or break something.
5. Have fun!
It can be easy to see open houses as high stakes or competitive. They are, after all, about the buying and selling of what's probably the most important purchase of many people's lives, but open houses are also fun. Going to an open house gives you the opportunity to imagine a new life in a new home. You can take a look at the various rooms and imagine your furniture and other belongings nicely arranged in them. In fact, even if you're not in the market for a home, open houses can be very productive. Should you live in the neighborhood, it's a great way to check on your local real estate market. Even if you just want to look, it can be a useful way to help you focus on or envision what sort of home you want to have.
Let us know if you have any open house advice on Twitter and Facebook, or get in touch with us anytime for all of your home and mortgage needs.
Tags: home buying, inspection, open house