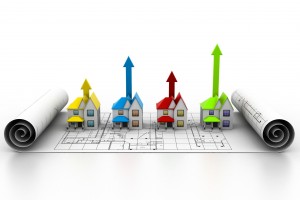 When interest rates began to increase, many people thought the housing market would, at last, plateau. After so many months of consistent growth, it seemed ready to level off, but recent data shows the housing recovery won't stop anytime soon. Government reports from August showed tremendous year-over-year and month-over-month increases in many housing markets, despite higher interest rates. With the end of the government shutdown too, confidence in the market remains high, and the recovery is still on track.
Month-over-Month Increases
Investors expected August to take the hardest hit with the housing market. Few predicted a decrease in home prices, but many assumed that, with mortgage interest rates climbing back from historic lows, the recovery would level off. A report released a few weeks ago by the Commerce Department, however, demonstrated a 7.9% increase in new home sales. Many areas demonstrated a huge increase in both contract and traffic from the previous month. Kendall, Illinois, particularly, had a 119% increase in housing contracts, and Boulder, Colorado increased 78%. These striking figures, analysts realized, were testaments to the strength and continued recovery of the market.
Factoring in Seasonality
Even areas that didn't demonstrate such radical growth contributed to an overall increase, exceeding expectations. Rather than stop, the recovery appears to be moving full steam ahead, even as the market enters a slower season. As fewer home buyers enter the market during holiday months, the month-over-month increases may slacken, but most now predict the year-over-year figures will remain strong. Decreases in home sales during the coming months shouldn't be interpreted as the end of the housing recovery, just a natural slowing down, which occurs in any year.
Confidence in the Market
These governmental figures have energized home buyers, demonstrating to them the stability of the housing market. As the economy allows more first time home buyers to leave renting and enter the market, the solid investment of a home will incentivize them further. The end of the governmental shutdown, too, relieved some economic anxieties, giving investors more confidence in this American market.
If you're interested in purchasing, refinancing, or learning more about mortgage rates, simply fill out our Fast Response form. Our experienced mortgage professionals would love to sit down and discuss your needs. We look forward to hearing from you!
Tags: 2013 home prices, 2013 Housing Trends, best time to buy a home, first time home buyer, house hunting, housing market statistics