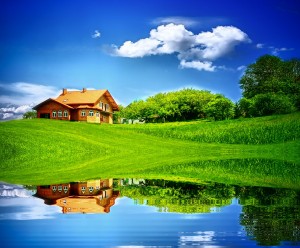 Homebuyers, sellers and owners all want the housing market to be back to normal. Freddie Mac created the Multi-Indicator Market Index (MiMi) to help gauge the health and stability of markets, and whether or not we've reached a normal range of activity. Whether or not the market is back to normal levels depends on location. Weak mortgage applications across the nation show that while some markets heal, some are stalling.
What is Freddie Mac's MiMi?
Freddie Mac's MiMi takes in a variety of factors to determine a market's stability. It provides a look at housing data as a whole for the nation, for each state, and the top 50 metro areas, including Washington, D.C. The index is released once a month and features a month-over-month analysis, three month trends, and year-over-year data.
Freddie Mac sources the numbers from their own data and combines it with local data. The index measures these key local indicators:
Home purchase applications relative to the single-family homes on the local market.
Payments on 30-year fixed-rate mortgages respective to homebuyers' income.
The proportion of on time mortgage payments in the market.
And local employment levels.
To find each market's MiMi value, a range between -12 and 12, Freddie Mac averages the four local indicators. To keep it fair, each indicator is weighted and adjusted for the season. Each indicator is benchmarked against their last stable period prior to the 2005-2006 bubble to decide whether they are currently in range of their long-term norm.
You can view the numbers and data visualizations on their site, where they highlight whether a market is weak (less than -2), in-range (between -2 and 2) or elevated (more than 2). By selecting the State, Metro or Compare tabs, you can filter and receive a deeper analysis for your state or area of interest.
All in all, it is a great tool for both homebuyers and sellers wanting to stay up-to-date on the market. Freddie Mac's color coding of market maps for weak, in-range and elevated make them easy to quickly digest.
Freddie Mac's May MiMi Findings
The national MiMi for May was at -2.64 points, showing a weak housing market overall. Yet we were at -3.50 a year ago. For comparison, the housing market was at its lowest and weakest in November 2010 with a MimI value at -4.49. Nationally, the housing market is improving each year, but moves gradually month over month.
Viewing state and metro data shows much healthier markets and those in recovery. Those with the most positive change:
Thirteen states and Washington, D.C., were stable in May, with the top five being North Dakota, D.C., Wyoming, Alaska and Montana.
Eight metro areas were stable, including San Antonio, Austin, Salt Lake City, New Orleans and Houston.
States showing the most improvement month-over-month were Illinois (+0.05), Massachusetts (+0.04) and New Mexico (+0.01). Arkansas, Colorado, Montana and Ohio tied at -0.02.
Look to Florida for the top year-over-year improvement.
Chicago (+0.04), Riverside (+0.02) and Providence (+0.01) were the most improved metro areas month-over-month. While year-over-year data reveals Miami (+2.13), Orlando (+1.80), Las Vegas (+1.58), Riverside (+1.53) and Austin (+1.48) as the stars.
What Does the Housing Market Data Mean for Homebuyers and Sellers?
Every year the national housing market improves, although some areas are healing slower than others. Freddie Mac Chief Economist Frank Nothaft said, "When we look at the other MiMi indicators outside of mortgage purchase applications, the news remains positive — unemployment rates are coming down, more borrowers are paying their mortgages on time, and mortgage rates remain low. Moreover, while house price growth is moderating, many markets can still sustain additional house price gains while still maintaining strong homebuyer affordability."
"So we remain cautiously optimistic the housing recovery will continue, albeit slowly, until we see more tightening in the labor markets to give personal incomes a much needed jolt," Nothaft said.
The index data is more favorable for home buyers than sellers since prices and mortgage interest rates are still low, and inventory is growing. Consider Salt Lake City if you're looking to move or purchase a second home or investment property. Freddie Mac Deputy Chief Economist Len Kiefer echoed Nothaft when he highlighted Salt Lake as a winner in May since three of its local indicators improved: "The metro area finds its purchase applications are up on a year-over-year basis. The positive trend in home purchase applications reflects a strong local labor market, with employment growth in the Salt Lake City metro area about double the national average."
Related resource: "How To Qualify for an FHA Loan in Salt Lake City"
Pair the MiMi index tool with First Option's online mortgage calculator with a principal and interest breakdown to see what you're capable of financially. Speak to one of our experienced, local lenders to receive a personalized service, whether it be to go over mortgage rates in detail or to talk about getting pre-approved for a mortgage. Call (801) 285-9540 to reach a mortgage lender at our SLC branch. We are here for you!
Tags: first time home buyer, Freddie Mac, housing market statistics, Salt Lake City, Salt Lake City Mortgage, Salt Lake City Utah, Utah Mortgage