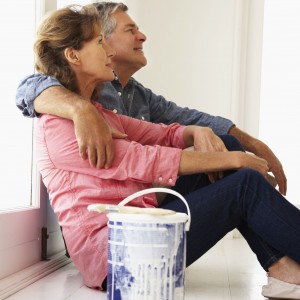 Sending your kids off to college and out into the world marks a momentous time in any parent's life. Some see it as a joyous occasion; others may grieve. However you respond, one thing is clear: Your nest is empty and it may be time to consider downsizing into a home more appropriate for a one or two household family. Many people take this opportunity to start fresh and buy a new home. If you're looking for a house for the first time without kids, we have a few tips on what to look for—and where.
Accommodations
As soon as your kids leave, you'll notice you have a lot more space. Rather than fill it with new stuff, it's a good time to downsize and buy a smaller home, which can require less upkeep and cost less to heat in winters and cool in summers. Depending on how large your home and property are, you may be tempted to reduce your space to the bare necessities, but consider the possibility of visiting relatives, entertaining guests, and pursuing new hobbies. Your new accommodations should reflect the post-child rearing life you want to lead, so in lieu of kids' bedrooms you may want to find guest rooms, larger dining rooms, wood shops, and a spacious yard for gardening.
Accessibility
You may have a long-term retirement plan in place, but as you approach growing older, it's wise to look for a home that can meet any future, physical needs. Single-story houses or homes with wide and gradual staircases can be necessary if you ever need to care for an aging relative. Door frames should be able to allow wheelchairs, and though ramps aren't necessary until they're needed, you may want to ensure one could be feasibly constructed.
Proximity
Even if your kids just left home, it isn't a bad idea to think about where they may settle down. Families often travel thousands of miles to see each other on holidays, but having children and grandchildren just a few minutes away is an amenity few people possess. If one or more of your children have already settled down, you may want to focus your search on nearby towns or neighborhoods. If  they haven't, homes in cities with larger airports will at least allow access to family, wherever they eventually reside.
Second Homes
Even if you're on the hunt for your primary residence, you should consider the possibility of buying a second home, as it could affect your current house-hunting decision. Many retirees choose to divide their time between multiple residences in different climates, or just different states. If this has always been tempting for you, you should factor in the potential payments of another mortgage and look for homes priced to allow a second home.
If you're planning to purchase, refinance, or want to learn more about our mortgage rates, simply fill out our Fast Response form or give First Option Mortgage a call at 888-644-1999.  Our experienced mortgage professionals would love to sit down and discuss your needs. We look forward to hearing from you!
Tags: best time to buy a home, first option mortgage, house hunting, housing market statistics