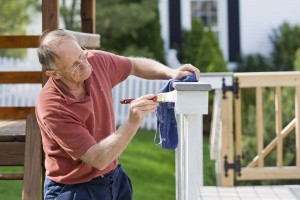 There are many obvious costs when it comes to purchasing a home that people are generally aware of. The purchase price, the homeowners insurance, the property taxes, and of course closing costs and fees are pretty well-known expenses, even for a first-time homebuyer. Beyond these expenses, though, come additional costs that should be calculated in before you take the next step and purchase a home of your own. When determining the affordability and your ability to pay, consider these additional expenses.
Maintenance:
Even new construction requires minimal levels of maintenance and upkeep in order to preserve your investment. And if you purchase a fixer-upper or a previously loved home, those maintenance costs are likely to increase. Basic home maintenance includes re-caulking, winterizing your home, replacing HVAC filters, and general maintenance of home appliance systems, all of which is needed on even the newest of homes.
In addition, you need to prepare for the possibility of more serious home repairs, such as roofing and plumbing, as well as potential appliance replacements due to inevitable wear and tear. Upgrading your hot water heater and furnace or replacing a refrigerator can set you back hundreds if not thousands of dollars, and an emergency fund should be in place to accommodate for unexpected maintenance issues such as these.
Risk:
Homeowners insurance will cover much of the risk involved in being a homeowner, but you should pay close attention to what is not covered, and be prepared. Sewer back-ups, earthquakes, and flood damage are not typically included in a standard policy and may require purchasing additional insurance to cover. Termites, rodent damage, rot, and mold are also typically excluded. Be aware of your policy's limitations and be prepared if you are in a flood-prone or earthquake-prone location.
Mortgage Insurance:
If you have owned a home before, you may be aware of this additional cost, but many first-time homebuyers confuse mortgage insurance with homeowners insurance, when in fact they are completely different expenses with completely different purposes. If you are putting less than 20% down on your home or you are purchasing using an FHA home loan, an additional monthly expense, mortgage insurance, will be tacked on to your mortgage statement. This is an insurance policy for the bank that will cover any losses if you default on your mortgage. Depending on how much you put down and how much the home is worth, the monthly cost can be in the hundreds and cost you thousands over the life of your home loan. Be sure to account for this expense in your monthly payments when you are identifying the price range you can afford to purchase in.
Time:
Upkeep on a home takes time. The larger the home or the size of the lot, the more time you will need to maintain the space. Mowing, painting, gardening, updating interior finishes, cleaning gutters and drains…the list goes on. It is not uncommon for homeowners to spend a majority of their weekends or time off devoted to tending to chores around the house. Unlike renters, these items are not tended to by the landlord and may require immediate attention. Be sure you have the time and ability to take on these regular tasks in your life. Letting any of your regular maintenance chores go by the wayside can result in large repairs and expenses down the road.
The benefits of homeownership are worth the time and expense if you can afford to invest both into your future. If not, there are some ways to minimize the monetary and time cost associated with homeownership. Looking at a townhome or a condo can save you on time and cover much of the general maintenance, and purchasing newer construction can save you on immediate replacements and expensive repairs.  Just be sure to take all of these factors into consideration when making your final purchase decision.
If you're interested in purchasing, refinancing, or learning more about mortgage rates, simply fill out our Fast Response form. Our experienced mortgage professionals would love to sit down and discuss your needs. We look forward to hearing from you!
Tags: Everyday Living, first option lending, first option mortgage, first time home buyer, home mortgage, house hunting, mortgage lending