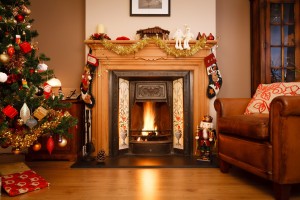 Winter can be a difficult time of year to sell your home. With fewer buyers in the market and chilly winter weather, many may find their homes on the market for more days than average and fewer buyers to compete for. However, buyers in the market this time of year tend to be more motivated, and with the right staging and incentive, selling during the off-season doesn't have to be an impossible feat to accomplish. Here are a few tips to get your home sold faster.
Prepare for the Weather
In many parts of the country, chilly weather and snow are a given this time of year. Stage your home accordingly. Make sure to keep the walkway and driveway clear of snow, and keep your entry free from hazardous ice. Potential buyers should feel welcome and comfortable when they visit your home for a showing. Be sure to make them feel warm and welcome when they arrive by keeping the heat on and the house warm and inviting.
Decorate for the Season
Nothing says the holidays like a wreath on the door and holiday decorations throughout your home. Give your home a festive update with some appropriate decorations to celebrate the season. This can incite great family memories with potential buyers and help them envision future family memories in their potential home.
Give Your Home a Holiday Scent
Smell is one of the most powerful senses and can trigger positive emotional responses. Pine, cinnamon, and other holiday spices tend to evoke a feeling of cheer. Add potpourri, a fir garland, or bake some spice cookies in the oven to further attract potential buyers when they arrive.
Keep the Lights On
It gets dark early during the winter, which can make your home feel smaller than it actually is. Open your curtains and turn on your lights to make your home feel larger and more inviting. Even consider turning on the lights on your range hood and in your hallways to add additional lighting to your home's interior.
If you're interested in purchasing, refinancing, or learning more about mortgage rates, simply fill out our Fast Response form. Our experienced mortgage professionals would love to sit down and discuss your needs. We look forward to hearing from you!
Tags: best time to buy a home, first option lending, first option mortgage, Selling Your Home