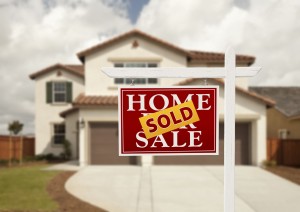 So you're selling your home?
You've found a good agent
,
your house is cleaned up, your paperwork is in order — now you can just sit back and wait for it to sell, right?
Wrong, wrong, wrong. There are still some simple things you can do to help your home sell quicker, and maybe even for more money than you originally hoped. Let's take a look at our seven tips for bringing in more buyers.

Post it on social media
Most buyers start their search online. It's a great, free way to reach a large audience in just a few short minutes. Try posting pictures and information of your house on your preferred social network site. Your friends will see it, then their friends will see it, and so on.
Reduce the price
Don't worry, the lowered price won't be the final price. But it should start a bidding war between potential buyers. Find out the price your home is actually worth, then reduce it by about 15 percent. Once the dust settles after the bidding battle, you should end up with a larger offer than you were originally asking for.
Create curb appeal
An open house is like a first date: It's all about first impressions. You'll be judged by your exterior appearance before buyers even get a chance to see the real you — the inside. Some quick tips:
Try planting some colorful flowers and fresh greenery in the front yard.

Switch out your old house numbers

with an easy-to-read address placard.

Keep the lawn mowed and manicured.

Power-wash the driveway and/or walkway.

Paint or decorate your porch for a more inviting feel.

See the light
You'll always want to showcase a perfectly illuminated home, because it makes your house look bigger. It also makes rooms and hallways feel more accessible. So open those drapes all the way, clean the windows, replace old light bulbs with crisp, bright bulbs, and clear away any bushes and shrubs that may be blocking sunlight from coming in through the windows.
Now you're cooking
Your kitchen is one of the most enticing elements of an open house. Its size, color, condition, and appliances can literally make or break an offer. A kitchen remodel will pay for itself in the sale price. But if you can't afford to modernize, at least liven up the walls and cupboards with new paint or a colorful trim, add a few fancy appliances (which you can take with you when you leave), or hang some plants.
And remember: Always keep that kitchen clean because you'll likely have a few unannounced "drop-in" buyers show up before the first cup of coffee kicks in.
Clean out the closets
Most potential homebuyers want lots of closet and storage space. A sneaky little trick is to remove half the contents in your closet, then organize the half that remains in there. Make it appear as though each of your closets can fit all your worldly possessions with plenty of room to spare.
Pets can be pests
You may love your dog or cat more than anything else in this world, but a stinky cat box or a bowl full of dog food may turn off a potential buyer. Either hide everything well (including your pets), or take them to a neighbor's house or kennel on the day of the open house.
Share your own tips with us on Twitter and Facebook, or get in touch with us anytime for all of your mortgage and home-buying needs.
Tags: curb appeal, open house, Selling your house