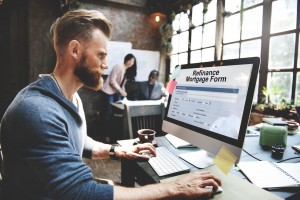 Thanksgiving is a time for family get-togethers, big turkey dinners, and being thankful for all you have. It's also a great time to think about refinancing for all the things your family might need.
Whether it's a lower interest rate or a child's higher education you're putting on your wish list this holiday season, you can count on First Option to provide you with the best refinancing options for you and your family.
What does refinancing do?
When you refinance your home mortgage, you're basically paying off your existing loan and replacing it with a new loan on new terms. There are multiple reasons for doing this, but the most common are:
To get a lower interest rate.

To convert your adjustable-rate mortgage to a fixed-rate mortgage, or vice versa.

To tap into your home's equity in order to finance a large purchase, or to consolidate debt.

To pay off your home faster.
Getting a lower interest rate
The most common reason for refinancing is to get a lower interest rate on your loan. There are some fees involved in mortgage refinance, but the benefits are an increase in the rate at which you build equity in your home and a decrease in the size of your monthly payments.
Converting from an adjustable rate to a fixed rate
An adjustable-rate mortgage (ARM) usually starts out with a lower rate than fixed-rate mortgages, but periodic adjustments might increase your interest rates. If this occurs, converting to a fixed-rate mortgage will lower your rate, possibly shave off thousands of dollars from your loan, and prevent future rate hikes from affecting you.
Converting from a fixed-rate to an adjustable rate
On the flip side of that equation, if you currently have a fixed-rate mortgage and interest rates are falling, it may make sense to switch over to an ARM. Doing this will lower your monthly payments and reduce your loan's interest. Converting to an ARM is also a smart option for homeowners who don't plan on keeping their house for too long. They can reap the rewards of lower monthly payments now without having to worry about interest rate hikes in the future.
Paying off your home faster
Mortgage loans were designed to be repaid over a long period of time — usually 20 or 30 years. This results in lower monthly payments, but a lot more of them. If your budget allows it, you can shorten your loan terms to a 15-year mortgage by paying more per month. Reducing your term will also reduce the amount of interest paid.
For big purchases or consolidating debt
Refinancing also allows you to tap into your home's equity to help pay off big chunks of debt — like credit cards or car payments — or to cover large expenses, like your child's college education or a home remodel (which also adds value to your home).
Are you thinking about refinancing your home? It might be the perfect time to consider it. Talk to one of our First Option refinancing experts, or connect with us on Twitter and Facebook.
Tags: APR, fixed rate, interest, Mortgage, refinance