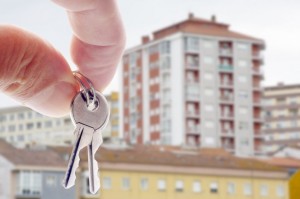 Depending on where you live, housing market prices may be outpacing increases in rent, but the cost of owning a home is still much lower than that of a renter, according to Trulia's Winter 2013 Rent vs. Buy report.
Top 100 Markets
After factoring all cost components including transaction costs, taxes, and opportunity costs, Trulia found buying a home is 44% cheaper than renting, down some from 46% a year ago. "Although buying a home is still cheaper than renting, the gap is closing," said Jed Kolko, Trulia's chief economist. "In 2013, home prices should rise faster than rents, and mortgage rates are likely to rise in the next year as the economy improves. By next year, buying could be more expensive than renting in some housing markets, even for people with the best credit."
Trulia also disclosed that out of the 100 largest metros, buying is more affordable than renting in all areas. In some cities, the cost of buying was much less than the national average. The buy rent gap was the largest in the Detroit area, where buying costs 70% less than renting. For the next four metros in top five, the cost of owning was 63% less than renting. Although owning was found to be less expensive in all metros, owners in San Francisco averaged the smallest savings at 19%, a sharp decrease from the 35% savings seen in 2012.
Now Is The Time To Buy
"People who didn't buy a home last year may have missed the bottom of the market, but they haven't completely missed the boat," Kolko added. "Even buyers who can't get today's lowest mortgage rates will still find that buying makes more financial sense than renting in nearly all local markets – so long as they can get a mortgage in the first place."
To view an interactive map illustrating how mortgage rates, tax deductions, and number of years in the home can affect the rent vs. buy decision, click here.
If you're planning to purchase, refinance, or learn more about mortgage rates, simply fill out our Fast Response form or give us a call at 888-644-1999.  Our experienced mortgage professionals would love to sit down and discuss your needs. We look forward to hearing from you!
Tags: 2013 home prices, 2013 Housing Trends, best time to buy a home, first time home buyer, Home Loan, home mortgage, housing market statistics, Mortgage