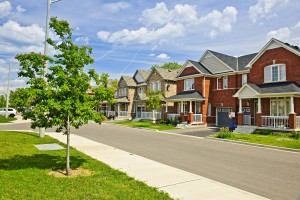 Homeowners Associations  (HOA) emerged in the US in the mid-19
th
century. However, it wasn't until the 1960's and 1970's that they exploded in popularity. Today, an estimated 62 million Americans live in communities governed by Homeowner Associations with an estimated 8,000 new communities formed each year. With so many homes and condo's subject to HOA's, you might find yourself looking for your next home in an HOA community. So what can you expect when you move to a community governed by an HOA?
Dues
Annual, quarterly or monthly dues are required in addition to your monthly mortgage payment. These dues are typically established to cover the amenities in your community and can include things like lawn maintenance, playgrounds, golf courses, pools. In the case of condos or townhomes, these fees also often include any exterior maintenance required on your home.
If you are considering a home in an HOA community, be sure to find out what the dues are and what they cover. It is also wise to check into the Association's financial solvency to ensure they have capital on hand in the event of an emergency.
Rule and Regulations
The covenants, conditions and restrictions of an HOA are generally put in place to protect the value of your home and the community. However, they can be lengthy and in some cases highly restrictive. Oftentimes, HOA rules will govern how long you can have Christmas decorations up, what color you can paint your door, how high your fence is allowed to be, and even how often you water and how high your grass can be. In addition, if you intend to make cosmetic changes to the exterior of your home, you will likely have to get approval through the HOA first.
Management
The Homeowners Association is not just there to make sure the community is kept up, but can act as a mediator in the event of a dispute with a neighbor. If there is a problem between community residents, the HOA can step in and resolve it quickly without requiring lengthy and expensive litigation. These organizations are typically run by members of the community and in most cases, board members are volunteers. At times, this can lead to poor management and occasionally charges of dishonest actions against an HOA.
HOA's can put a lien on your home and start foreclosure proceedings if you get behind on your dues and can place unfair fines on homeowners that break any of the covenants, charging excess fees for delinquencies. While this is not common, before you move into an HOA community, be sure to look into their pending and past litigation as well as recent assessments.
HOA's are intended to work to the benefit of homeowners and can help maintain the look of your community while avoiding deterioration of the amenities and the homes within your neighborhood. Just be sure to have a full understanding of the cost, the rules, and the regulations before you commit to a home or condo that is under HOA rule.
If you're planning to purchase, refinance, or want to learn more about our mortgage rates, simply fill out our Fast Response form or give First Option Mortgage a call at 888-644-1999.  Our experienced mortgage professionals would love to sit down and discuss your needs. We look forward to hearing from you!

Tags: Everyday Living, first option lending, first option mortgage, first time home buyer, house hunting, mortgage education